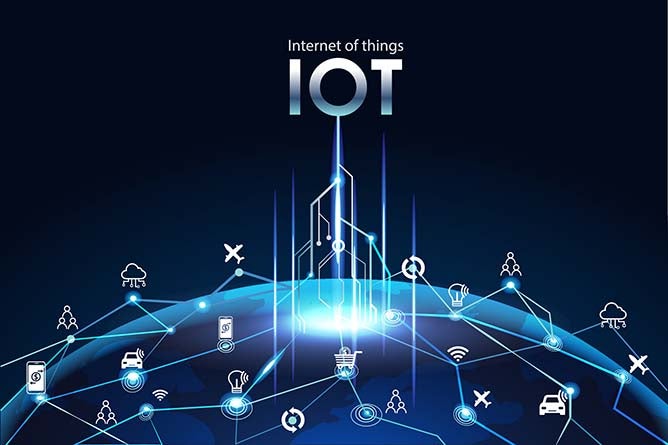 The internet of things (IoT) is a rapidly growing part of the IT sector. The market is flooded with internet-connected devices and with them, there's new security issues for companies to confront. To tackle IoT in IT, these organizations are increasing their investments in cybersecurity and looking for IT professionals with the right knowledge and skills to protect their networks and systems.
Understanding the internet of things.
In the simplest terms, the internet of things means "taking all the things in the world and connecting them to the internet," according to IoT For All. The total number of IoT devices reached 7 billion in 2018, according to IoT Analytics—and that number doesn't include devices like smartphones, laptops, and tablets. That's almost double what it was just three years ago, and IoT Analytics projects that number will surge to 22 billion by 2025.
Internet-connected devices are everywhere nowadays: the watch you're wearing, the doorbell at your house, the speaker you use to entertain guests. These devices help us track our fitness, manage our customer information, and regulate our medical systems. But they also raise important questions about securing the data needed to power them. Every connected device is vulnerable to cybercriminals looking to steal consumer data, hack into government agencies, or disrupt businesses—often simply because they can.
More things, more problems.
Security threats, such as IoT malware and unencrypted weak spots, often come when companies seek to connect their products to the internet through off-the-shelf software development kits without following the stringent guidelines and standards set by government agencies like the National Security Agency.
Fortunately, there are skilled programmers who keep companies one step ahead of cyberattackers and determine the weak points of a company's IT infrastructure. Sometimes, they work inside an organization to build programs that safeguard against cyberattacks; sometimes they work as security consultants or consulting engineers or software developers.
Combating cyberattacks.
Some IoT threats are more insidious than others. Computer Weekly reports that many companies struggle to detect when their internet-connected devices have been breached. They need skilled IT directors and systems administrators to encrypt and manage data warehouses, issue updates, patch unsecure networks, and contract outside security firms.
The go-to tactics of the past—setting up firewalls and weakly authenticated encryption protocols—are no longer enough to stymie attackers. Today's IT professionals must understand risk assessment methodologies, legal limitations, and policies related to incident handling.
With the right education and background, you could join the ranks of IT professionals who are inhibiting cyberattacks through skilled programming. Cybersecurity hiring managers look for résumés with industry-recognized certifications—such as Certified Cloud Security Professional, CompTIA, EC-Council, or ISC².
Protecting the front lines.
IT professionals who specialize in cybersecurity are involved in nearly every aspect of IoT. Some develop walls to protect the organization. Some analyze a company's current strategies. Some even spend their time on the front lines, monitoring, responding to, and investigating imminent or active threats and attacks. Ultimately, this security work is all about staying one step ahead of cyberattacks to stop them before they occur.
As the internet of things evolves and grows, the demand for talented IT professionals to help fight back against hackers will remain high. Are you prepared for a career in cybersecurity?