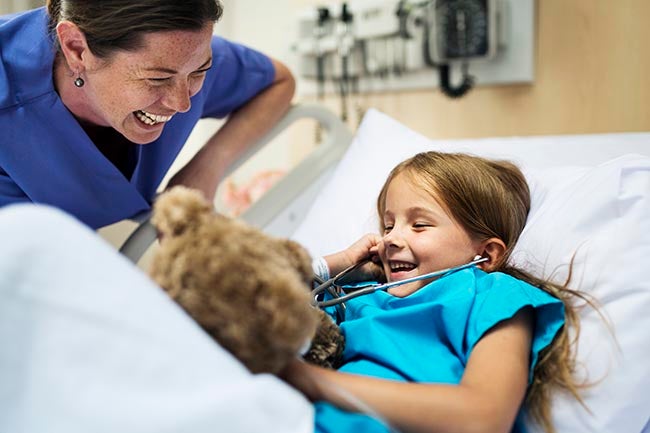 Now more than ever before, aspiring nurses can look forward to strong career prospects. The healthcare industry is currently experiencing a nationwide nursing shortage, creating high demand for nurses in a variety of roles. According to the U.S. Bureau of Labor Statistics, the job outlook for Registered Nurses and Licensed Practical Nurses predicts a 9% growth into 2030, while other nursing roles such as Nurse Practitioners and Nurse Anesthetists are looking at a 45% job growth rate.
But before you start scouring job postings, first things first: You need to determine what kind of nurse you want to be and enroll in an education program that will set you up for success.
Different nursing roles require different degrees and certifications. All require licensure, but some roles require only an associate degree, while others ask for a bachelor's degree. And if you want to further your nursing career or start out at a higher level, a master's degree may be part of your educational path.
As you're deciding what kind of job speaks best to your sensibilities, it can help to know a little more about some of the more prominent nursing roles and what they entail.
Licensed Practical Nurse (LPN): An LPN assists registered nurses and physicians by providing a wide range of patient services. Duties can include monitoring and recording vital signs, updating patient charts, offering bedside care, assisting in nursing care, dressing wounds, administering medications, organizing patient medications, providing meals, cleaning and managing medical equipment and instruments, and starting intravenous (IV) fluids.
Registered Nurse (RN): RNs have earned a license to practice nursing in their state. An RN's roles and responsibilities include administering hands-on patient care in a variety of settings, including hospitals, medical offices, nursing homes, and other facilities. They'll also work alongside physicians and other members of the healthcare team to provide the best course of treatment possible and help educate patients and their families about health issues.
Advanced Practice Registered Nurse (APRN): APRNs have all the skills of an RN—and then some. Their roles and responsibilities include performing annual and advanced physicals, diagnosing acute and chronic health problems, developing patient treatment plans, ordering diagnostic tests, prescribing medications (if their state allows), ordering certain types of treatments, performing in-office procedures, educating patients, and providing referrals.
How Long Does it Take to Become an LPN?
Becoming an LPN is often the fastest route to realizing your dreams of becoming a nurse. Once you earn your high school diploma or GED, you'll need to enroll in an LPN program, which typically takes a year to complete. Then, you'll need to pass the National Council of State Boards of Nursing (NCLEX-PN) exam and apply for your professional LVN certification. Being licensed for this role will help you get experience and be prepared for the next step in your career.
How Long Does it Take to Become an RN?
The amount of time it takes to become an RN depends on which educational path you choose. But in general, you can expect to spend from 16 months to four years in school before you're ready to take your nursing exam.
Earning an associate degree remains a popular option because it tends to be the fastest and most affordable way to become a nurse. But it may not be enough to make you a strong competitor for today's more desirable nursing positions. Earning a bachelor's degree in nursing (BSN) is more likely to make you a stronger contender for a job at a top hospital, most of which are only hiring nurses that have earned their BSNs. No matter which nursing degree program you choose, this degree is critical to giving you credentials, training, and skills you'll need to be successful.
From there, you'll need to complete the clinical training requirements, which include coursework and supervised clinical hours in a hospital or other healthcare facility. Clinical hour requirements vary, but it's usually three clinical hours for every hour of classroom instruction. Lastly, once you are deemed eligible by your state board of nursing, you must sit for and pass the NCLEX in order to earn your RN license.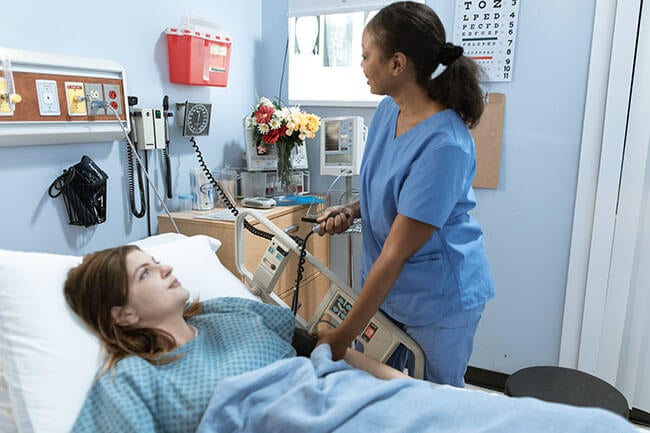 How Long Does it Take to Become an APRN?
The educational path of an aspiring APRN can take a similar amount of time to becoming an RN. To start, you'll need to earn a bachelor's degree and become a registered nurse. Some online nursing degrees offer a prelicensure program that helps you obtain your BSN and be qualified and prepared to get your nursing licensure simultaneously.
After you've become a registered nurse and earned your BSN, you can pursue an MSN nurse practitioner degree, which allows you to gain the critical credential and training you'll need to pursue this career. MSN programs for nurse practitioners often include courses and clinical work in specializations such as psychiatric-mental health nursing, family nursing, adult-gerontology nursing, neonatal nursing, pediatrics, and women's health.
As your final step, you'll need to gain work experience. If you're leaning toward an NP specialty like a family nurse practitioner, find ways to work in that area so you will have experience as you continue down your career path. Primary care focus allows you to cater to more general medical needs, while an acute care nurse practitioner would focus on more emergency situations.
What is the Fastest Way to Become a Nurse?
One of the quickest ways to become a nurse is to join a nursing program and obtain your associate degree, considering it takes much less time than pursuing a bachelor of science. But more and more employers are looking for nurses with BSNs. The amount of time it takes to finish nursing school and earn your degree can also be impacted by the kind of certification you want. For example, earning your APRN is going to take longer than earning your LPN.
This is why online nursing education is a great option. By choosing to enroll in an online nursing degree program, you can earn your bachelor's degree at your own pace. This allows you to accelerate your nursing education to suit your capabilities and schedule your schoolwork around your other commitments.
Working While Earning Your Nursing Degree

If you really have your heart set on becoming a nurse but you can't go to school full time or you have budget constraints, there are options available to help you reach your goals. While it may be challenging to work and go to school at the same time, it is possible—many WGU students have pursued their bachelor's degrees while working full-time jobs. Online degree programs offer flexibility, allowing you to work as in an accelerated manner, or slow as you want or need.
Additionally, online universities such as WGU can offer additional support to make your chosen degree program even more affordable. You'll also have the opportunity to work with your own mentor, who can help you achieve your educational goals as you work toward realizing your dream of becoming a nurse.
 No matter which educational path you choose and which nursing career role speaks to you most, embarking on nursing school is an incredibly rewarding experience. Whether it takes you a year, 18 months, or four years, you'll come out the other side of the experience with the skills you need to make a difference in the world of healthcare and your community. And isn't that what it's all about?