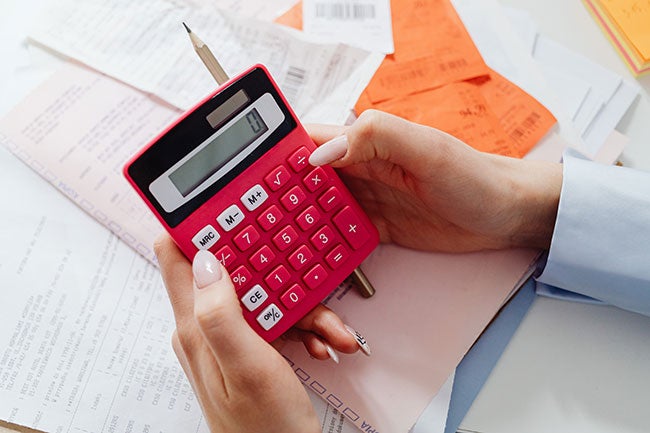 Getting an accounting degree is a smart career move. Accounting boasts high salaries, job security, and career growth. But what is the time commitment needed to earn an accounting degree? It usually takes four years to earn an accounting degree at a traditional, in-person college or university. However, there are alternative routes that would allow you to complete your degree even faster.
WGU offers a competency-based curriculum that allows students to move on from a course once they demonstrate mastery by passing assessments. That means if you're a particularly ambitious student who can dedicate extra time to your studies, you can potentially earn your bachelor's degree in under four years and your master's in under two years.

If you have a knack for numbers and are interested in helping businesses create financial wellness, then a career in accounting is right for you. WGU's accounting programs are designed to empower students with the knowledge to make a real difference in organizations of all types.

This article includes everything you need to know to pursue a career in accounting, including academic requirements, which type of degree is best for your needs, different relevant positions in the field, and how to get started.
Online vs In-Person Accounting Degrees
There are pros and cons to consider when you're deciding whether you want to attend an in-person or online college to earn your accounting degree.
Online Accounting Degree Program
Pros:
affordable
possibility of competency-based curriculum (like what we offer at WGU)
flexible
just as credible as in-person college
Cons:
100% reliant on technology for learning
less opportunity for social interaction, greater need for self-motivation
In-Person Accounting Degree Program
Pros:
social interaction
distraction-free learning environment
hands-on learning
Cons:
expensive
four-year curriculum, regardless of competency
less flexible learning style
Bachelor's and Master's Accounting Programs
WGU's online Bachelor of Science in Business Administration–Accounting degree is an excellent first step to becoming an accountant and taking the CPA exam. This degree program helps students stand out from the competition with their knowledge of generally accepted accounting principles (GAAP), ledgers, journal entries, and more. WGU lets you move at your own pace through coursework, so you can finish your degree in a timeframe that works best for you. Due to the competency-based curriculum, 70% of WGU students finish their bachelor's degreein just 41 months (under four years).
WGU's online Master of Science in Accounting degree was designed to turn students into the cream of the crop in the job market. Completion of this coursework will prepare students with the specialized skills and professional credentials to make a big difference in their careers. WGU allows students to move through the advanced degree coursework at their own pace. Seventy percent of WGU students finish their master's in 23 months (under two years). The pace you take entirely depends on how much time you are able to invest into the coursework.
How Long Does It Take to Become an Accountant?
How long it takes to become an accountant depends on the individual, but generally it takes between two and four years to complete the coursework of a bachelor's program. In addition to earning an accounting degree, you must pass the CPA exam in your desired state. As a rule of thumb, you should sit for the CPA exam as soon as you can following graduation.
Here is the step-by-step process for becoming an accountant:

Get your high school diploma or GED
In order to enroll in a bachelor's accounting degree program, you must possess a diploma or GED.
Get a bachelor's degree in accounting
This is the minimum requirement to hold an entry-level accounting position. In your degree program you'll learn accounting fundamentals like auditing, accounting information systems, and generally accepted accounting principles (GAAP). During this time you'll get an idea of what area of accounting you may want to work in, whether it be in the public sector, private sector, financial services, or another area.
Choose an accounting specialty
There are many different types of accountants. During your schooling or shortly thereafter you should form an idea of what area of accounting most interests you. Some options include:
Financial accounting
Cost accounting
Managerial accounting
Tax accounting
Auditing
Project accounting
Fiduciary accounting
Fund accounting
Forensic accounting
Political campaign accounting
Government accounting
International accounting
Get a master's degree
Accounting is a growing and competitive field, so professionals who want to advance their career should pursue a master's degree to deepen their knowledge of the profession. WGU's Master of Science in Accounting program prepares students with everything they need to know to truly stand out against other professionals in their field. Students are required to have a master's degree before they can sit for the CPA exam.
Pass the CPA exam in your state

The term certified public accountant (CPA) refers to the certification that designates qualified professional accountants. It's possible to work as an accountant without holding a CPA certification, but you would be at a huge disadvantage in your job search if you choose to forgo it. CPAs are more skilled than accountants without a CPA and are therefore more valuable to employers and eligible to earn higher salaries.
Seek advanced certifications
While all accountants should start their career by earning their CPA, those who want to enhance their professional ranking can seek other well-respected certifications.
Some of these include:
Certified Management Accountant (CMA): For those aiming to sharpen financial and managerial skills in accounting.
Chartered Financial Analyst (CFA): For those who want to specialize in investment management.
Certified Internal Auditor (CIA): For those who want to advance their auditing career, which could apply to any and every area of accounting.
Enrolled Agent (EA): For those who want to focus their career in tax law.
Accounting Degree Requirements
Most accredited schools, like WGU, require around 150 credit hours to sit for the CPA exam, a requirement for your CPA license. There are also state-level requirements that you should familiarize yourself with.
WGU's bachelor's in accounting requires students to complete nine accounting-specific courses in addition to business core, business management, general education, human resources, and IT fundamentals classes.
How Long is an Accounting Program?
A traditional campus-based accounting bachelor's degreee program generally takes students four years to complete. However, there are other options such as WGU's online accounting program, which allows students to opt for a flexible commitment to fit their needs. The curriculum is competency based, which means you can move through the coursework at your own pace. In fact, 70% of students graduate from the bachelor's program in under four years and the master's program in under two years. The length of time it takes you to work through the courses depends on your time-commitment.
The benefits of this are that you can start your career relatively quickly and you have some control over the cost of the degree. The faster you work through the curriculum, the less you pay for tuition, since WGU charges tuition by term (not per credit hour or course).
What will I Learn in Accounting Programs?
WGU's bachelor of science business administration - accounting program includes accounting classes such as:
Financial Accounting
Taxation I
Cost and Managerial Accounting
Business Law for Accountants
Intermediate Accounting I
Intermediate Accounting II
Accounting Information Systems
Intermediate Accounting III
Auditing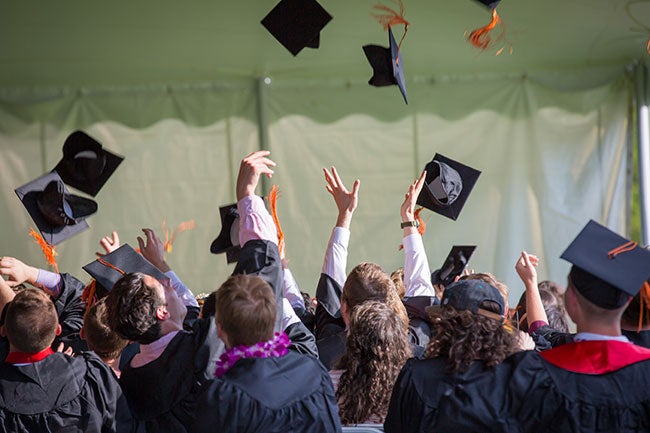 There are many different careers you can pursue as a certified public accountant. Keep reading for an overview of some common roles.
Public accountants help people and businesses with a variety of common financial tasks. Some of their main responsibilities include:
Filing income taxes
Reviewing and maintaining accurate financial records
Staying up to date and compliant with fiscal regulations
Generating financial statements
Giving accounting and financial advice
The U.S. Bureau of Labor Statistics reports a wide salary range for public accountants, with a median salary of $71,550. The lowest 10% of accounts make $44,480 a year, while the top 10% make $124,450.
Corporate accounts track the income and expenditure of a corporate business's financial accounts. They are responsible for:
Monitoring and preparing financial records
Ensuring financial documentation is clear and up to date
Creating strategic financial plans
Making recommendations to increase the financial wellness of the business
Giving presentations on monthly and annual financial performance
Glassdoor reports that corporate accountants earn $82,342 (salary and bonuses) a year on average.
Internal auditors are responsible for independently and objectively evaluate a company's financial operations. Their job duties include:
Objectively assessing IT and business practices
Calculating risk in risk management efforts
Ensuring compliance with laws and statutes
Making recommendations for better internal control
Identifying gaps in company processes
Investigating fraud
Internal auditors make an average annual salary of $67,779 according to recent data from Glassdoor.
Financial analysts are in charge of tracking a business's financial performance against predetermined plans and goals. Some of their duties include:
Forecasting future revenues and expenditures
Analyzing current and past financial data
Creating reports on expenditures and revenues
Establishing plans to increase company profits
Identifying financial trends in the marketplace
Financial analysts make an average of $62,774 per year on average, according to PayScale.
These careers are just the tip of the iceberg. Accounting graduates can take many different paths with a bachelor's or master's in accounting, including administrative, auditing, and high-level roles.
Keep in mind that although it's not absolutely required, accountants who earn their CPA certification have much better job prospects and earn more than those who did not pass the CPA exam.
What's the Benefit of Accounting?
There are numerous benefits to earning an accounting degree from WGU.
Accountants are in high demand in the job market, and that demand is expected to grow. The U.S. Bureau of Labor Statistics projects 7% growth, which is equal to 96,000 new jobs, from 2020 to 2030.
The accounting degree from WGU is supportive and personalized, offering a flexible way to earn a degree online without losing customized, one-on-one attention.
WGU measures learning, not hours, making our competency-based program tailored to your unique needs. That way, you can finish your degree quickly and efficiently.
As an alumni of our accredited university, you'll have continued access to career support, networking, professional development, and more through apps, groups, and events.
Get Started with WGU's Accounting Degree Program
Every business relies on accountants to meet regulations, achieve financial wellness, and implement profitable practices. This is why accounting will always be a high-demand, well-paying, and secure career.
Ready to start your WGU journey? Choose an online accounting degree program that sets you apart. Take the first steps towards starting your accounting career today.
Learn more and apply for WGU's accredited bachelor's degree.
Learn more and apply for WGU's accredited master's degree