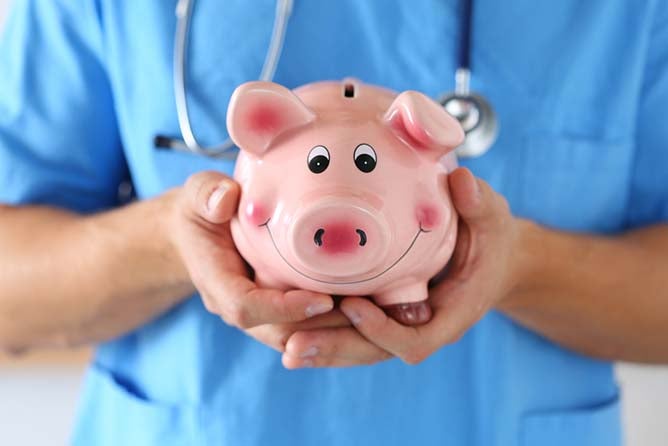 You might have heard it from friends, relatives, even coworkers—registered nurses make good money. While the role of a nurse often entails long hours and tough tasks, it pays well relative to its demands. What's more, nurses can boost their income by specializing in a particular nursing field and by working overtime or on holidays.
According to the Bureau of Labor Statistics, RNs make about $71,000 a year. But this number could grow as the population of the United States ages and more nurses are needed to care for a generation of elderly patients. And while some specialties might net more money than others, you'll almost always earn a great living by caring for the injured and sick.
Nurse salary influencers.
How much you'll earn as a nurse depends on your specialty, your education, and where you live and work. If you have a master's degree in a specialty such as nursing informatics, you'll likely earn much more than if you had only a bachelor's or associate's degree.
Generally, you can make more money if you work in an acute care facility, such as a hospital, than a provider's office or other healthcare setting. Many high-earning nurse specialties work only in hospitals. There could also be more room for promotions, specialized training, and overtime in acute care facilities.
But where you live also affects how much you earn. The states with the highest average yearly salaries for nurses, according to the U.S. News & World Report, are
California: $102,700

Hawaii: $96,990

District of Columbia: $90,110

Massachusetts: $89,330

Oregon: $88,770
The nationwide hourly wage for registered nurses is $35.36, U.S. News & World Report says. And it's possible you could earn that salary as an RN with only an associate's or bachelor's degree.
Top-paying nurse jobs by salary.
Because potential salary is so dependent on educational level, experience, location, and facility, it's almost impossible to say exactly which nursing specialties pay the most. But you can still get a good idea of which specialties pay more by looking at reported median annual salaries. These four nursing roles earn pretty big bucks.
No matter what specialty you choose, it's possible to make great money as a registered nurse. Through your role as a nurse, you'll encounter people and situations that boost your experience and knowledge to help you earn more. Nursing is a demanding career, but it can also be a lucrative one.