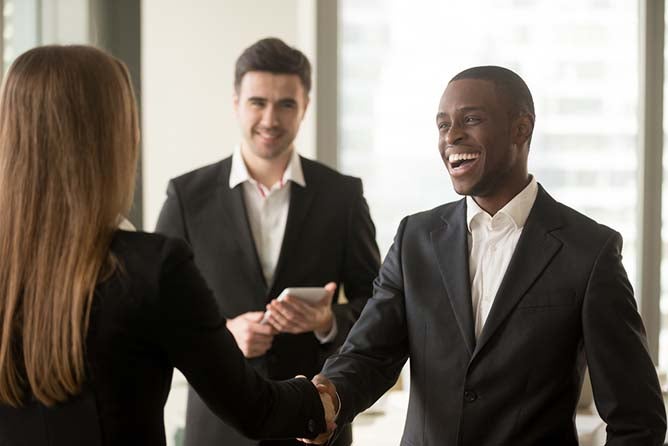 Job security isn't what it used to be. Even if you're comfortable in your career and you've been with your employer for years, the pace and precarity of today's job market mean that workers—new and veteran alike—need to be prepared to take greater control of their professional prospects.
This is not to suggest that job security as we know it is irrelevant or to downplay the value of feeling secure in your employment. Nor is this yet another article about how automation technology, artificial intelligence, and the gig economy are about to take away your job.
Further Reading: Common interview questions and how to answer them.
Businesses in every industry are changing rapidly. New markets, technologies, and roles are being introduced all the time. By investing in your education and professional development, you could help advance your career, even as your job changes.
The changing employment landscape.
Job security used to mean working for the same company, perhaps with nothing more than a high school diploma, across your entire professional life. Career trajectory was predictable: Many professionals worked their way up the ladder and retired with a plum pension and benefits.
Those days are, for the most part, gone. In 2018, only one in three workers had logged 10 years or more with the same company, according to the Bureau of Labor Statistics. Workers aged 25 to 34 worked fewer than three years, on average, for one employer. The Bureau of Labor Statistics also reports that the average worker holds around 12 different jobs in their lifetime, and many analysts expect that number to be much higher for the next generation of workers.
These statistics can be attributed in part to layoffs and discharges. Nearly 22 million workers were laid off or fired in 2018, Vox reports, and CNBC reports that, according to outplacement firm Challenger, Gary & Christmas, job layoffs spiked to a 10-year high in the first quarter of 2019. Analysts say that the layoffs could be attributed to advances in technology and companies updating their work processes to become more efficient.
It's not just layoffs, though. Workers are leaving jobs of their own accord. Vox reports that nearly twice as many people quit their jobs in 2018 than were laid off, which indicated confidence in the economy and their job prospects. Except in the most severe economic times, the Bureau of Labor Statistics says, the American worker is more likely to leave their job than lose it.
Whether you're in the market for a new job by force or by choice, you need to be prepared to embrace new opportunities.
A range of skills.
In his new book, Range: Why Generalists Triumph in a Specialized World, reporter David Epstein argues that generalists—people with a wide range of skills, knowledge, and experience—are in a much better position to thrive on the job market than specialists with expertise in one specific area. This idea challenges the conventional wisdom that success is dependent on specialization and deliberate practice. As a review of the book in The Atlantic notes, Range cites multiple studies showing that late bloomers—people who spurned early specialization by embracing ongoing education and dabbling in a variety of skills and jobs—actually had greater professional fulfillment and long-term success.
More than ever, embracing a professional life that prioritizes lifelong learning and focuses on developing new and different skills is paramount. Doing so will give you a lot more control over your job security and career trajectory than you might have thought.
Continuing education.
If you want to advance your career, don't stop learning. A professional can never have too many skills and can never stay too close to the cutting edge of workplace changes. Keep honing your expertise, building new skills, and finding new rocks to uncover in your life's journey. A study conducted by LinkedIn found that employers prized soft skills such as collaboration, analytical reasoning, creativity, and people management. Earning a bachelor's or master's degree in business, IT, or management will help you hone these skills and advance your career. An affordable, flexible online program will allow you to earn your degree while you work full or part time.
Continuing your education doesn't have to be hard. Making it a priority is the first step. Make it your business to always be learning and building skills.