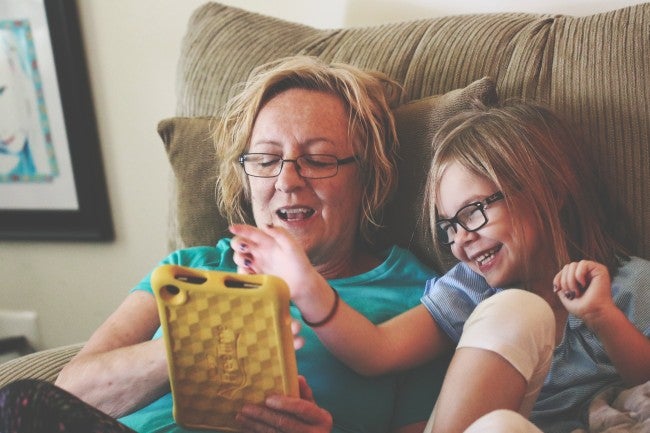 As technology evolves, so does the way it impacts our everyday lives. Technology has put phones in our pockets, has helped us become instant photographers, and has given us memes and gifs to laugh at every day. But this evolution has also had a tremendous impact on the health and nursing industry and how we are able to interact with medicine and health experts.
Telehealth is becoming increasingly popular as an option for patients to interact with their health professionals and technology, creating new ways for physicians, nurses, and patients to connect and communicate. If you are studying nursing or other health care practices, or are currently working in the nursing or healthcare field, it's vital to understand how virtual health care works and how it can directly impact your ability to help patients heal. 
Telehealth is the practice of using electronic technology to connect patients and physicians remotely. This can be done using video conferencing for virtual consultations, appointments, and remote monitoring, or can be done over patient portal chatting which is more secure than texts or emails. The whole idea behind telehealth nursing is that patients and nurses can have a consultation without physically having to be in the same room. Technology advancements have made this not only possible, but sometimes preferable to going in to a doctor's office. And as more clinics and hospitals adopt virtual health care practices, it will only be more widespread and effective. 
Telehealth services can be clinical or non-clinical; telemedicine's definition specifically focuses on specific health recovery and care delivery, while telehealth is a larger definition focusing on physician training and other consultations. The terms are fairly interchangeable but focus on the care setting.
Health care technologists are constantly working to find new ways to improve clinical health care practices so it's as effective as possible. Telemedicine focuses on making sure that patients can securely talk to providers from anywhere in the world, giving them flexibility and options when it comes to getting help from health professionals. 
How does telehealth work?
While the idea of telemedicine sounds great, how exactly does it work? The process is simple. Clinics and hospitals will have their own patient portal system that is secure and private. Patients will set up their own profile and often fill out healthcare questionnaires so their health data is readily available to providers. They'll set up a username and password to help make their information as secure as possible.
Virtual appointments. Patients who want to have a virtual appointment with a physician can set up a remote telemedicine appointment. Depending on insurance providers, this appointment will be free or could have a cost associated with it. At the appointment time, patients and providers will dial in to have a video conference appointment. Patients can explain symptoms, show medical professionals ailments on their body, and talk through possibilities with their doctor. These virtual appointments are usually ideal for minor issues, and are akin to a drop-in clinic when a patient just has some questions for a medical professional. Telehealth virtual appointments usually end with doctors telling a patient to take an over-the-counter medicine, to come in for further evaluation, or can lead to a prescription being written for a patient to pick up. 
Patient portal. Secure patient portals allow patients to get information about their health online as soon as it's available. Patients can communicate with telehealth nurses and other health care providers, asking questions about treatments or issues. Patients can get test results easily online without having to come into the clinic to pick up papers. Patients can also easily request medication refills or schedule appointments with their online patient portal. These secure systems are designed to help patients have easier, more transparent access to their health providers. 
Remote patient monitoring. Patients with unique conditions may be able to use wearable devices or at-home technology to be continually monitored by their doctor. Patients with diabetes can use technology to update their blood-glucose numbers so doctors and RNs can easily have that information. Patients who need heart monitoring can easily have their numbers updated with telehealth technology. Home monitoring devices can keep patients safe, alerting medical professionals if there is a change in vital signs or a slip and fall. These telehealth technologies allow people to go home and continue with their lives while still being safely monitored by their medical team.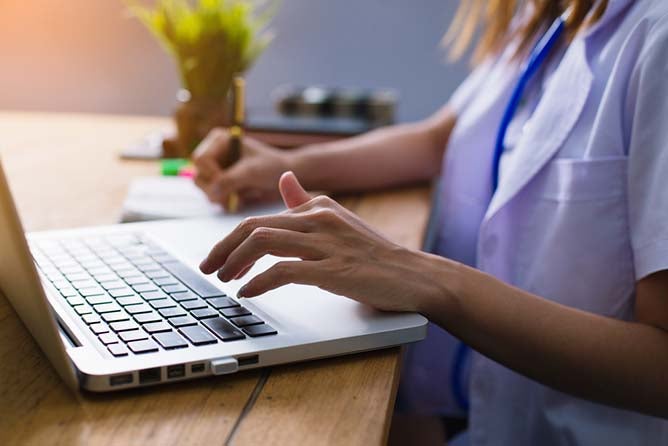 There are many benefits to patients and doctors when it comes to telehealth, including:
Cut of transportation time and costs. When patients are able to connect with health professionals online, they don't have to take the time or spend the money to drive or commute to the clinic or hospital. They don't have to worry about the additional time or money they would need to spend to get to the doctor, but instead they can reach out to a professional from their home. This is a huge benefit for patients.

Reduces number of sick patients in clinic waiting rooms. Telehealth nursing helps cut down on people who are sick going into public places. If a patient is feeling under the weather and wants to talk to an RN or doctor about their symptoms and possible medication, they can simply utilize telemedicine instead of risking the heath of other people by going into public. Telehealth nursing ultimately cuts down on the number of contagions that are spread in clinic and hospital waiting rooms. This is a major benefit for patients and providers alike.

Adds convenience for patients. Patients using telemedicine don't have to take time off work or pull their children out of school to visit a doctor. They can simply communicate with their RN or doctor over the internet, greatly increasing their convenience to accessing healthcare. 

Adds to patient satisfaction. Patients report increased satisfaction when they are able to connect with their health professionals online through telehealth. They don't have to travel, wait for a long time in a waiting room, and can connect with professionals from the comfort of their own home. Patients who aren't feeling well also don't have the hassle of having to get ready and leave their house before meeting with a professional. This greatly adds to their overall satisfaction with healthcare interactions. 

Telehealth improves quality of care. Research shows that there are improved patient outcomes when telemedicine is utilized. Telemedicine resulted in 38% fewer hospital admissions, 31% fewer hospital re-admissions, and 63% of patients spent less time in the hospital. Telemedicine helps patients connect with medical professionals at early stages of illness, and can help them start to take care of medical problems before they become more serious. Many patients also may opt to connect with a doctor from the comfort of their home, and get help for issues they may not have gone into a clinic for.

Reduces healthcare costs. Telemedicine programs can greatly reduce healthcare costs by allowing professionals to see more patients, and decreasing likelihood that patients have to go to the hospital. This ultimately saves clinics and hospitals thousands of dollars in patient care and hospital admissions. Clinical nursing is greatly benefited when telecommunication is used as a method to help patients.

Improves patient engagement. Telemedicine makes it easier and more convenient for patients to be involved with their care. Patients are more likely to be engaged in their care if they have easy, accessible access to their telehealth nurses and doctors. Patients are also likely to follow-up with their care providers if they can do it on their terms online. 

Allows access to more patients. Rural patients are more likely to get access to healthcare if they are able to utilize technology to connect with telehealth nurses and doctors. Underserved populations and rural communities can greatly benefit from telemedicine services because they don't have to travel great distances at high expense in order to receive healthcare.

Comfortable, safe, secure. Telehealth programs allows for patients to feel comfortable and secure when talking to a nurse or doctor. It can be stressful or overwhelming to need to talk to a healthcare professional, but telemedicine allows patients to connect with a doctor or a nurse in a way that is most comfortable for them. Telemedicine is secure so data and information is safe, increasing the likelihood that patients will utilize it as a resource.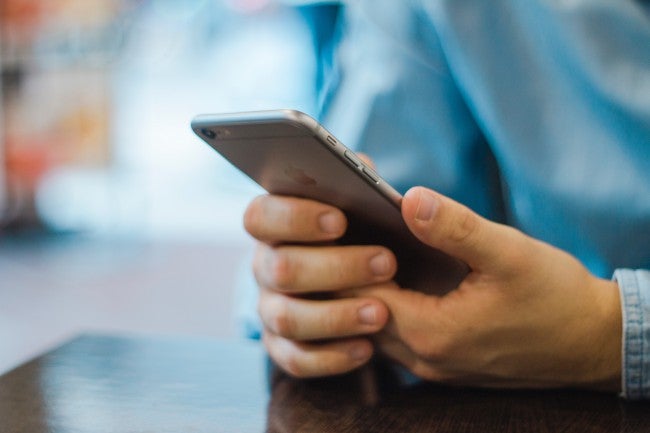 5 tips for nurses using telehealth.
With patients increasingly using telemedicine options, it's important for current and aspiring nurses to know what to expect and how to best help patients who utilize telemedicine as part of their healthcare services.
Use the equipment and technology properly. Make sure you fully understand how all the equipment your clinic and hospital works. Be sure you have your camera positioned properly for virtual visits, that you know how to start and stop the appointment, and that you are ready for all the technical elements of a virtual visit.

Address patients by their name. Patients want to know what you care about them, even with a virtual visit. Being warm, friendly, and speaking to them using their name will help them feel more comfortable with this virtual visit.

Introduce yourself and your role. Help patients understand who you are and how you can help them with their issue. You want them to feel comfortable to talk to you and know that you are a professional who is ready to help them. Talking them through your experience and knowledge will help them be sure that they can trust you and your health care services.

Don't be afraid to ask for help. Other nurses or doctors may be extremely helpful as you work with patients to diagnose and help them. It's not a problem to tell a patient that you need to reach out to another doctor or nurse to get a more comprehensive answer.

Rely on your training. Your education and experience will be key in helping you know how to utilize the technology and help patients in this unique healthcare setting. Telehealth is constantly adapting, but at the end of the day your nursing training and experience is what patients need the most.
If you're currently a nurse or hoping to become one, telehealth is an important aspect of the current healthcare industry that you need to be familiar with. Now more than ever, telehealth is a crucial element of patient care and many nurses may be asked to do this kind of work. Some nurses may even be able to find full remote positions that are completely telehealth roles. 
As you pursue your education or further your nursing career, make sure you understand and know how to utilize telehealth as an important piece of your career.