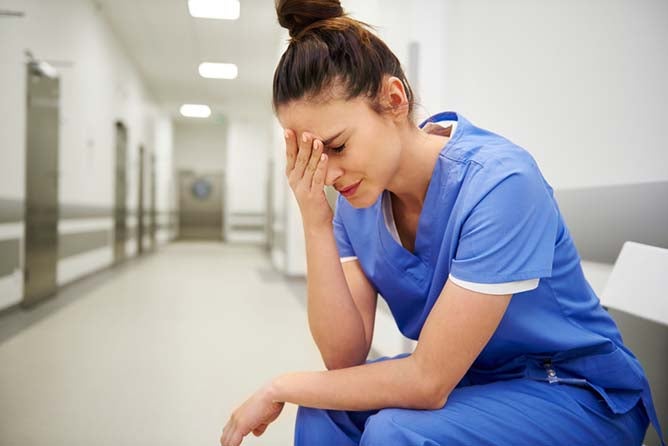 A day in the life of a nurse can include medical emergencies, physical trauma, and terminal illnesses. Nurses are generally drawn to the profession because it offers them a chance to help people, but after a while, the high-stress work days take a toll on even the most dedicated nurses.
During the pre-flight safety demonstrations, they tell you to put on your own oxygen mask before helping others. The same applies to coping with the stress of a nursing career. Taking care of your physical, mental, and emotional health will prevent burnout and help you give your patients the best care possible.  According to Healthy Nurse, Healthy Nation, "Healthy nurses are great role models for their patients, colleagues, families, and neighbors."Healthy nurses are great role models for their patients, colleagues, families, and neighbors."
Practicing physical self-care.
You probably give your patients follow-up care advice before they're discharged. Part of their discharge plans might include instructions to enroll in physical therapy, get plenty of rest, drink fluids, and exercise.
That guidance applies to you, too. The inherently physical nature of nursing plays a large part in the stress that nurses experience. Nursing requires heavy lifting, hours of walking (and sometimes even running), and long on-call shifts with little opportunity for sleep. These conditions can cause nurses to burn out. The PRC National Nursing Engagement Report notes that 15.6 percent of nurses experience burnout, and 41 percent of nurses who are unengaged at their jobs are burned out.
It's easy to take basic health maintenance—such as eating well, staying hydrated, and getting enough sleep and exercise—for granted or to put it off until tomorrow or the next day. But keeping your body healthy provides a buffer to the stress of a nursing career. Consider these tips:
Plan your meals. Prepping your weekly meals can help you avoid the temptation of drowning your stress in fast-food takeout at the end of a challenging day.

Schedule weekly exercise. Nurses rarely get to sit down at work, so it might feel like you get all the exercise you need on the job. Setting aside regular time for a physical activity you love—whether it's yoga, swimming, running, or another activity—can help you stay fit and give you a mental break from the daily grind.

Consume less caffeine. Caffeine might seem like a necessity for getting through the day, but too much can interfere with your sleep. Find something besides coffee—water, perhaps—to get you through the afternoon blues and help even out your energy cycles.

Get regular sleep. Try to inch up your bedtime by five minutes each night until you feel noticeably more rested the following day. And challenge yourself to cut down your screen time at least an hour before you go to bed to help your brain wind down.
Practicing emotional self-care.
Nurses help people through some extremely challenging times. Having a front-row seat to that intensity day in and day out can leave you reeling: The PRC report found that 97 percent of nurses who experience burnout also experience feelings of emotional exhaustion.
You can assuage this by making emotional and mental self-care a priority. Here's how:
Explore self-care practices. Deep breathing, visualization exercises, and meditation techniques can help you keep your emotional cool during times of high stress.

Develop a professional support network. There's nothing like having supportive colleagues who understand what you're going through. But remember that HIPAA rules and ethical standards apply to social media, so don't overshare in the name of seeking support for rough times at work. Consider joining a professional organization to further develop your professional support network outside of your immediate work environment. 

Make time for people and activities that refresh you. Your friends and family want to support you, so let them. 

Set healthy boundaries. It's important that you set good boundaries with your colleagues and patients. "Professional boundaries are the spaces between the nurse's power and the patient's vulnerability," the National Council of State Boards of Nursing says, adding that therapeutic relationships in nursing fall at the midpoint of a continuum between under- and over-involvement in patient care.

Develop your emotional intelligence. Emotional intelligence is the combination of being aware of emotions, harnessing emotions, and managing emotions.  

Develop your communication skills. Be clear and unambiguous with patients and colleagues to limit the stress that follows miscommunication. Be a good listener.  State your needs calmly. Be aware of your nonverbal communication.
Knowing when to make a change.
Nursing is stressful, and there will always be days that take too heavy of an emotional toll. If those feelings become overwhelming, you might consider making significant changes in your workplace environment—maybe even your career.
If you're feeling physically, mentally, or emotionally burnt out by your job, consider taking these steps:
Seek help. Know what mental health options are available through your employer and in the community, and know when to use them. Your supervisor can help you find therapists, colleagues, or groups that can help.

Find a mentor. Some healthcare employers and professional organizations have formal mentorship programs; if yours doesn't, find your own mentor who can help you keep your eyes on the big picture, develop your leadership skills, and model how to manage the stress of our profession.

Change your specialty. You might find that your desire to help people and your love of nursing are as strong as ever, but that you want to explore new avenues within nursing by pivoting your career. Continuing your nursing education will help you open new doors and further your passion of nursing in a new direction.
Sometimes successful self-care routines that start out as just what the doctor ordered become less effective over time. Schedule regular sessions with your therapist or mentor to review your strategies and make sure they're still mitigating your stress. Nursing will always be physically and emotionally exhausting, but you have many options to help you leave your stress at work.