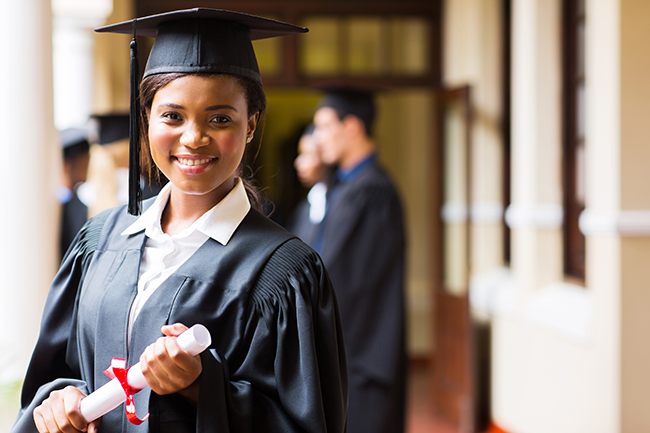 Recent Female Graduate
While there are several financial benefits to earning an undergraduate degree, understanding how to measure the ROI of a college education can still be tricky. Most current and prospective students want to get the most for their money, so factoring in schools, industries, and long-term job opportunities is key.
Here's how to calculate the return on investment of your potential degree, as well as three ways to maximize ROI during your working life.
Calculating the ROI of a College Degree
The most effective way to calculate the return on investment of your college degree is to take future earnings over a set period of time (say, 20 years) and subtract the initial cost of attendance.
For example, the average cost to attend private college is currently $38,185 per year, according to the U.S. News & World Report, or roughly $152,740 for a four-year bachelor's degree. High school teachers, as one career example that requires a degree, had a median salary of $62,870 in 2020, according to the Bureau of Labor Statistics. Multiply that by twenty years, and that teacher would make $1,257,400 over two decades. With this calculation, the 20-year ROI on their college degree investment is an impressive 723 percent.
This fictional college graduate clearly outearned their initial investment. However, if another student chose to earn a degree at WGU, which has a median cost of $7,452 per year for a bachelor's degree, the ROI could be even higher, especially if that student accelerates and completes their degree in two or three years rather than four.
This equation doesn't take into account variables such as paying taxes, a given debt-to-income ratio, earning salary bumps, or economic inflation, but it does demonstrate the financial potential involved in earning a degree.
ROI of Bachelor's Degree: Other Factors to Consider
Other factors can make deciding if a certain bachelor's degree offers good ROI and presents the right fit for your goals, including:
Earning power: With a degree, your ceiling for potential earnings becomes much higher. Research done at Georgetown University found bachelor's degree holders make 84 percent more over their lifetime compared to those with high school diplomas.
Job opportunities: Since 2011, people who have switched jobs have outearned those who've remained with their employer, according to CNBC. Students with a bachelor's degree put themselves in a better position to capitalize on better-paying job opportunities over the course of their career.
However, the industry you enter upon graduation will have a lot to say about the ROI of your hard work.
According to Third Way, a nonprofit public policy group, 46 percent of college graduates recoup their college investment in under five years, while 64 percent do so in fewer than ten years.
But some majors and industries simply offer better earning power and more choices. Prospective students wishing to maximize their ROI should look at the fastest-growing industries when considering bachelor's degree programs.
For example, Third Way's findings named nursing and healthcare one of 11 college majors that offer the most significant return on investment. Due to job growth and a plethora of cost-effective study opportunities, 99.7 percent of students can recoup their investment in five years or less upon graduation, states Third Way.
Similarly, jobs in information technology are expected to grow 13 percent between 2020 and 2030, adding 667,000 new jobs, according to the Bureau of Labor Statistics. The vast number of certifications and continued education opportunities in this field (for example, courses in cloud architecture and IT security management) can boost your salary once you're employed.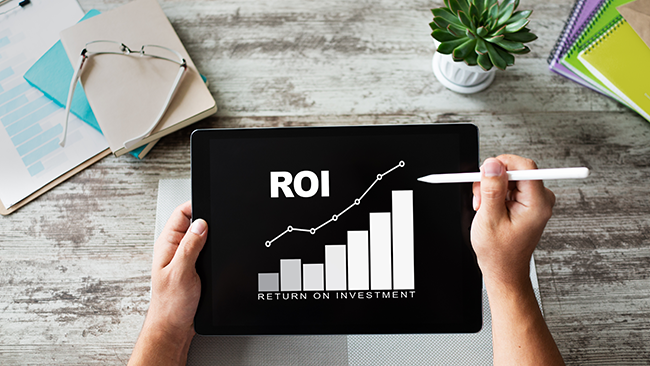 How to Get the Most Out of Your College Degree
Here are three strategies students can apply to maximize their investment and get the best ROI on their college education.
1. Pick a Cost-Effective School
The lower the initial sum of money you invest, the higher your potential return will be later. Shopping around for the right school is definitely in your best interest, especially if you're entering a career path with hundreds of different programs to choose from.
When you're searching for the right school, consider factors beyond the initial cost of the degree. Earning a degree from an online college, for example, will save you money on room and board. Similarly, a flat-rate tuition model, where you pay per period and can take as many classes within that period as you're able, can help you maximize your time and save money in the process. Competency-based education models allow you to move through certain subjects more quickly if you're able to demonstrate mastery, which is also a cost-savings benefit as well as a time-saving one.
2. Choose a Career Path You Can Grow Into
According to Indeed, the average starting salary for new professionals with only a high school diploma was $27,040 in 2020. After five years, that salary would yield $135,200. Comparatively, the average salary for 2020 college graduates was $55,260, according to the National Association of Colleges and Employers (NACE), totalling $276,300 after five years. Even considering the financial investment that a college degree requires, college graduates still make a significant amount more on average than those with just a high school diploma.
Students who choose career paths with significant growth opportunities can increase their ROI even further over time. For example, they might start at around the $55,260 average salary but receive an annual increase of 3.9 percent, the national average salary bump, according to the Society for Human Resource Management. That would raise their salary to $57,415 after the first year and to $66,908 after five years. Moving into a management- or even executive-level position has the potential to grow that salary even more, steadily increasing your possible ROI.
Additionally, choosing a career path that allows for growth can provide you with continual opportunities to try new things and develop new skills over time.
3. Study Industry Trends and Never Stop Learning
In a fast-moving, tech-driven world, it's not an exaggeration to say that some of today's hottest markets and jobs might not even exist a mere decade from now. By studying the trends in your industry, you can develop skills and see where things are headed, which will help you make the most informed decisions about your career. Earning a degree or certificate in nursing informatics, for example, can help you informed on technological evolutions in healthcare data management. Similarly, a degree in information technology management can help you bolster your business career and earn more money over time.
Beyond college, those who make learning a lifelong habit also stand to earn more and maximize their ROI as a result. Research how certifications, additional coursework, and professional development could help you get more for your money in the industries you're considering.
Learn more about the ROI of a college degree, as well as specific tips for affording college, with our How to Pay for College ebook.