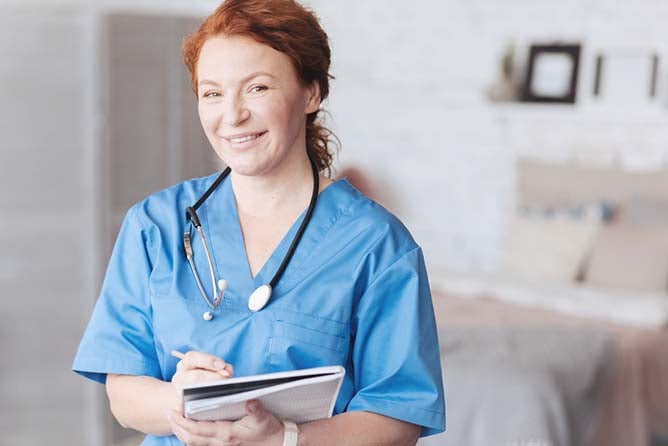 Sometimes it's tough to visualize the steps that stand between you and your dream career. Navigating the myriad professional roles that make up the vast healthcare ecosystem can be even tougher. You might not know where to start or how to get there, but pursuing the right degree program can put you on the right track.
Here's a career map of degrees that can help lead you to your dream healthcare job.
Bachelor's in health information management.
A bachelor's degree in health information management trains you to collect, organize, and evaluate patient data. Health information managers develop processes for acquiring and protecting patient data (such as diagnosis, treatment plans, and personal information) and organization information (such as billing information and budgetary details).
A good fit for: People who are interested in improving data management procedures and accessibility in a healthcare setting. If you want to help patients without providing direct patient care, becoming a health information manager might be right for you. You'll impact patient outcomes by compiling and delivering actionable information for providers in a timely manner.

Potential roles: Many roles are available to nurses with this degree, including medical records manager, outpatient coder, or information systems auditor. These roles require varying degrees of IT knowledge, and they can work in hospitals, laboratories, or community clinics.

How you make it happen: By earning your bachelor's degree in health information management, you could be an invaluable asset to a care team. Some degree programs, such as Western Governors University's program, require an AA, experience, or industry certification. Also, at WGU, advanced standing is granted to graduates of CAHIIM-accredited associate degree programs and holders of the RHIT credential. Be sure to check the specific admission requirements for your chosen program. 
Masters of health leadership.
The modern landscape of healthcare requires leaders who are change agents committed to fostering innovation and sustainability in organizations.  A Masters of Health Leadership will help healthcare leaders grow within key leadership roles in health-associated industries and fields and to expand their knowledge and expertise in areas such as healthcare regulations and laws, patient care and other changing healthcare initiatives.
A good fit for: If you are a change agent, passionate about healthcare and ready to make a positive difference in the healthcare industry then the Masters of Health Leadership is the right path for you!

Potential roles: Many work their way into executive level roles such as chief executive officer, chief operations officer, chief administrator, provider network executive, home health agency president, health system vice president, ambulatory services executive, department or division director, behavioral health director, clinical director, or managed care analyst. There are countless opportunities with a degree in healthcare leadership to work in many organizations.
How you make it happen: Because of the increasing level of specialty skills required for these positions, many employers seek master's degree graduates with proven problem-solving skills relevant to this growing sector. WGU's online Master of Health Leadership program focuses on quality improvement of person-focused, culturally relevant care with an emphasis on professionalism, technology, and ethical practice to foster innovation and sustainability.
Master's in nursing leadership and management.
Earning a degree in nursing leadership and management can open doors to high-level nursing roles. Nursing managers facilitate patient treatment by managing operations outside of bedside care. They coordinate schedules, develop junior nurses, and make budget decisions. Leaders and managers often ensure that nurses comply with safety and quality regulations, and they advise leadership on best practices.
A good fit for: People who are ready to take on responsibility, who are comfortable making difficult decisions, and who enjoy directing and delegating tasks. Nursing manager is a great role for natural leaders and people who want to make an impact on the policies and procedures of nursing and patient care.

Potential roles: Many nurse managers work their way up into executive-level roles, such as chief nursing officer, regional director, or department director. They can pursue educational roles, too, such as clinical nurse leader. No matter the role, managerial nurses can usually work wherever they like, whether that's in a hospital, in a long-term care facility, or in state or federal government.

How you make it happen: To cultivate a successful management career, you need the clinical know-how to make informed decisions for your patients and the high-level education to make the best decision for the unit, department, and hospital. You'll need at least a bachelor's degree in nursing. If you're a licensed RN with your BSN who wants to advance into management, a master's degree in leadership and management can give you a boost toward that next step in your career.
Master's in nursing education.
Every nurse needs to learn from skilled professionals in the field, and those with advanced degrees in nursing education are responsible for developing those students. Seasoned nursing vets train the next generation of nurses by creating curricula, facilitating experiential learning, and mentoring new nurses.
A good fit for: People who enjoy teaching, explaining, and digging deep into the theory behind nursing practice. Nursing educators are passionate about sharing their expertise with others. They hold a high standard of patient care and are willing to pass on those standards to aspiring nurses.

Potential roles: With the right degree, you could teach at a university or college, or lead teams of nurses in hospitals or patient care facilities. Many nurses with nursing education degrees become clinical educators, nursing program directors, or nursing instructors.

How you make it happen: If you're eager to impart your nursing wisdom to new nurses, earning a master's degree in nursing education is the perfect step toward launching your educational career. A nursing education degree program will help you develop skills in curriculum design, student-centered learning, and assessment strategies.
Master's in nursing informatics.
A nursing informatics degree sets you up for a career turning patient data into information by providing context, knowledge by providing additional information needed for clinical decision making, and wisdom by applying data analytics and data mining to stored data. Nursing informaticists analyze data trends, evaluation and implement information systems, and identify innovative new systems to improve patient outcomes.
A good fit for: Tech-savvy, data-obsessed individuals who are dedicated to improving patient care and patient outcomes. Nursing informaticists are empathetic and logical problem-solvers, and they are driven to innovate based on patient data.

Potential roles: A nursing informatics degree opens avenues to many positions, including nursing informatics specialist, clinical analyst, and director of clinical informatics. Because many healthcare organizations—especially hospitals—use electronic health records, they all need informatics nurses to implement, maintain, and evaluate their systems and analyze data.

How you make it happen: A master's degree in nursing informatics can help open the door to your dream career in data analysis. After learning about database management, systems design, and analytics, you'll be prepared to step into any data-driven nursing role.
What does your nursing career map look like? Ask yourself where your strengths are, and where you see yourself in the future. Ask people in the field of potential interest that they like and don't like about their roles, what skills they have that you need, and look closely at potential degree programs to see how they fit your career goals, lifestyle, and timeline. Then take the leap and turn your passion into hard work—and hard work into your dream job.