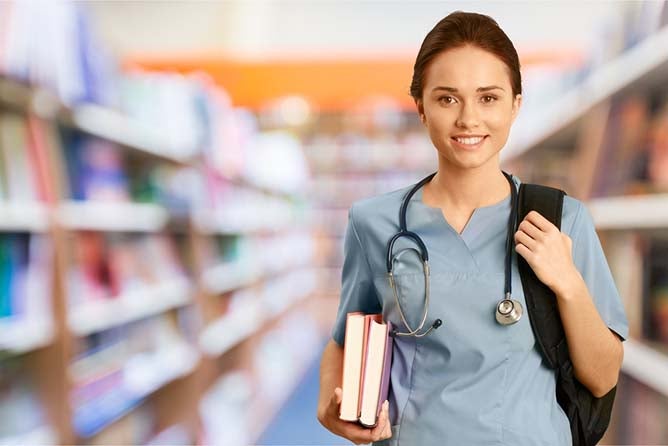 If you're already working as a nurse, chances are pretty good that you value the opportunities that education can bring. After all, your nursing education has already brought you this far.
But how can education fit into your future?
With more healthcare jobs available each year, the future looks bright for nurses; the U.S. Bureau of Labor Statistics expects the healthcare field to grow by 18 percent by 2026. As the healthcare system grows and becomes more complex, the competition for these new jobs will be fierce, so you'll need something to help you stand out from the competition. That's where a master's degree can play a critical role.
Here's what you need to know about pursuing a master's degree in nursing.
Educational flexibility.
The nursing profession welcomes people with a variety of educational backgrounds, and the same is true of the path toward earning a master of science in nursing (MSN) degree.
For example, nurses can enter either a BSN-to-MSN program or an RN-to-MSN program, depending on their previous education. An RN-to-MSN program will likely include general education and baccalaureate-level coursework, so it could take you longer to complete than a bachelor's-to-MSN program. Working nurses also have the flexibility to decide whether an in-person or online MSN program fits better with their work and family obligations.
Whichever type of program you prefer, make sure your choice is accredited by either the Commission on Collegiate Nursing Education (CCNE), which accredits baccalaureate and graduate programs in nursing, or the Accreditation Commission for Education in Nursing, which accredits associate's and diploma-granting programs as well as baccalaureate and graduate programs.
In general, MSN programs comprise a nursing-related core curriculum that covers subjects such as anatomy, pharmacology, health policy, translational and clinical research, and comprehensive health assessments. They require you to complete courses specific to nursing science and your nursing specialty—such as curriculum-designing courses for future nurse educators or information management for informatics specialists. A program might also require you to complete clinical rotations.
The benefits of a master's degree.
While many nurses embark on successful, fulfilling careers earning only their bachelor's degree in nursing, many others pursue higher education because it offers substantial career perks. Here are a few.
Better compensation.
Nurses who obtain an MSN degree and pursue careers in anesthetics, medical care, or midwifery can expect better compensation than registered nurses with bachelor's degrees. The median pay in 2017 for RNs with a bachelor's degree was $70,000, per the Bureau of Labor Statistics. Contrast that with the 2017 median pay for advanced-practice nurses, for which a master's degree is an entry-level credential: the Bureau of Labor Statistics reports that the median pay for nurse anesthetists, nurse midwives, and nurse practitioners was $110,930.
Professional advancement.
For many nurses, earning a master's degree opens avenues to options that might not otherwise be available.
For example, academic medical centers and other top-flight medical centers are likely to require their nurses to hold master's degrees. Likewise, most health systems and healthcare-sector employers require nurses in academic or clinical educator positions to hold master's degrees.
Students who want to become nursing leaders often find that an MSN program that focuses on leadership and management, or an MSN program for future academic educators, are practical, effective options to prepare for that next clinical step. Possible jobs for leadership graduates include nursing manager, case manager, unit director, regional director, and director of nursing. And academic educator graduates often pursue clinical faculty, skills lab manager, simulation lab faculty, assistant or associate faculty positions. 
A flexible career path.
Just as some nurses feel the calling to provide direct clinical care to patients, or support nurses at the bedside, others are energized at the prospect of other healthcare-related roles, such as nursing education. Earning an MSN degree helps make either choice a reality.
For example, nursing students can now choose an MSN program tailored to an area of career specialization, such as nursing education. Nurse educators—who have master's degrees of their own—train nurses and nursing students, of course, but they're also qualified to educate patients, schoolchildren, community groups, and workers. This degree can educate graduates to work in hospitals, yes, but also nursing programs, schools, and community agencies—any workplace, really.
Informatics is another growing area. If you're a data-driven nurse, an MSN in nursing informatics can effectively prepare you for a career as a clinical analyst, an informatics nurse specialist, or a director of clinical informatics.
Take your career to the next level.
Whether you plan to continue your nursing career at the bedside or to explore nonclinical roles in related disciplines, furthering your nursing education by obtaining an MSN will likely help you reach your career goals—whatever they might be.