As a psychiatric nurse for nearly 15 years, Paul Tutokey has always worked to make a difference for his patients and his community. But when he decided to pursue a bachelor's degree in Nursing online at Western Governors University, he didn't imagine he would tackle the issue of suicide prevention in his hometown of Billings, Montana.
"I had to take a Community Health practicum as part of my degree program," Paul recalled. "As I was preparing for it, I found out Montana has one of the highest suicide rates in the country."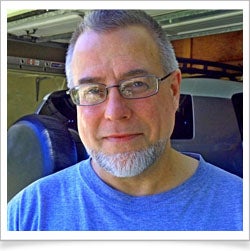 As the father of a 10-year-old daughter, Paul also discovered something else that alarmed him: suicide was one of the leading causes of death in Montana for children ages 10 to 14 and young adults ages 15 to 24. Suicide is the second-leading cause of death among this age group. It falls right behind "unintentional deaths" like car accidents and falls.
"I looked at my daughter, her friends, and other kids her age and thought, 'Adults can really make a difference here.' As a kid, you think some of the problems you are dealing with are just too much to take. Adults can help them see that it's possible to overcome those problems so they don't become lifelong challenges," he said.
Paul focused on the 15- to 24-year-old age group for his practicum. It required 90 hours of work, research, and interviews.
"It's a lot of work," said Tara Slagle, who was Paul's Program Mentor. "He has a full-time job and is a father. The amount of time he put into this project is impressive."
Paul conducted close to 35 interviews for the project. He met with mental-health-care workers, community leaders, politicians, and educators. He concluded that a shortage of mental-health-care providers and a lack of awareness of available resources factored into Montana's high suicide rates.
"I learned Montana's Department of Public Health and Human Services has put a lot of work into suicide prevention resources. Toolkits, training programs, and so many other things are available, but the adolescents in the age group I researched just don't know about them," Paul said.
He believes outreach, training, and support at high schools and elementary schools in Montana can solve some awareness issues.
"A lot of the high schools in Billings have psychologists on staff, and a lot of the high school students I interviewed didn't even know that," he explained. "Many high school students only heard about suicide once during their four years of high school—for a half-hour during freshman orientation. Once over the course of a four-year period isn't enough."
The experience and knowledge Paul gained through his Community Health practicum have not only turned him into a suicide prevention advocate, but have reinforced his professional goals.
"I plan on pursuing my MBA," he said. "It will help me reach my goal of working on a hospital risk management team."
Paul just graduated from WGU with his BSN. He believes that degree, and serving on his hospital's medical ethics committee, will also help him reach his professional goal.
"I moved back to Montana and returned to college because I wanted a better life for my daughter. My degree will help create new opportunities for her," he said.
Paul also hopes what he learned in his Community Health practicum will make it easier for parents, community leaders, educators, and mental health experts to have an important, open conversation about suicide prevention.
"Suicide is preventable," Paul concluded. "If we can educate our children and teenagers, we can start saving a lot of lives."