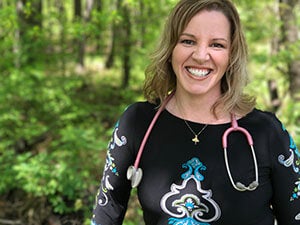 Meet Christina Wetter, one of the 3,079 nurses who have graduated from WGU Indiana since its founding in 2010. Currently there are 1,363 nursing students pursuing BSN and MSN degrees through WGU Indiana.
Describe your current position and what you've decided to do with your career since graduating from WGU Indiana.
I'm currently a school nurse for a title one elementary school. Since I've earned my BSN from WGU Indiana, I've decided to pursue my National School Nurse Certification. Currently, there are only 20 certified school nurses in the state of Indiana and I hope to become the 21st one. A bachelor's degree is required to sit for the exam and because of my degree from WGU, I am able to progress even more in my education.
Describe your experience while working as a school nurse. What did you find was the most fulfilling part of utilizing your nursing skills in a school setting?
I have a heart for community nursing. I have always wanted to work as a nurse in a place where I could create long term relationships as well as utilize my nursing skills. In a school setting, I use my nursing skills daily. I never know if I'm going to walk into the school and deal with minor issues like abrasions, cuts, lice or bigger issues such as broken bones or a staff member having a heart attack.
How did you come to learn of WGU Indiana? Was there a staff person at your school that was also pursuing a degree through the university?
I heard about WGU Indiana through social media. I started following WGU Indiana's Facebook page and many people spoke positively of the university. I then discovered that several people I went to nursing school with were pursuing degrees through WGU.
What prompted you to choose WGU Indiana for your nursing degree?
I was drawn to WGU because it has CCNE accreditation, it's affordable and it's online. 
You mentioned having a desire to educate your community on topics such as infection control and diabetes management. Have you had the opportunity to speak to your community on these topics? 
I have created a presentation on infection control that I use at my school. Also, using skills I gained through my WGU coursework, I was able to present research about evidence based practice for managing lice. My presentation resulted in the school board changing their policy for children with lice and reduced the negative impact on time out of school.
We understand you've had to overcome an array of obstacles in your life. We're interested in learning more about your story and how it has brought you to where you are today.
My mom was 15 years old when she became pregnant with me. We struggled with poverty and a multitude of abuses. College was never a discussion growing up because we were just busy surviving. I then married young and years later we divorced and I had no way to support my children. I knew I needed to do better for my children who looked up to me. It was then that I went to school for practical nursing. I was an LPN for nine years before I went back for my RN. One year after I graduated with my ADN, I went back to school for my BSN. It's never too late.
What advice would you give to someone in a similar position that wants to pursue a nursing degree?
Don't hesitate! I waited many years to reach for my ADN. It is such a feeling of accomplishment to write RN behind my name. The level of accomplishment was magnified when I added BSN. The BSN program at WGU has so many resources available to help with a students' success.
I also recommend applying for scholarships! I did and received the WGU Loves Nurses Scholarship. We only get one life, so go after your dreams.
Tell us more about the time you earned your Practical Nursing Certificate. How has this assisted in your higher education journey?
I went to school to earn my Practical Nursing Certificate after a divorce so I would be able to support my children. I fell in love with helping people. Becoming an LPN was the stepping stone I needed to advance my career in an LPN to RN bridge program. 
Any other details of your journey and pathway that you'd like to share?
Since completing my BSN with WGU, I have decided to further my education and work on my MSN through WGU. I've had a wonderful experience with the program and am so proud of my WGU degree. I am the first in our family to earn a BSN and am creating a legacy of learning for my children. They, too, will one day have college degrees.