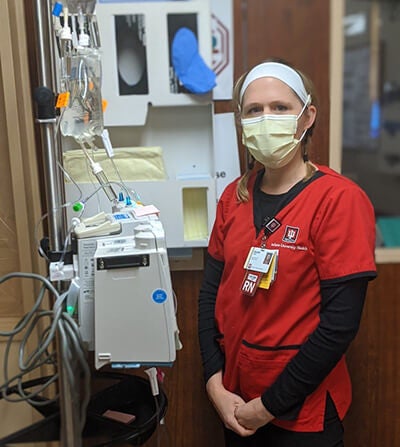 As health professionals are on the frontlines battling the largest pandemic in a lifetime, now is a time to reflect on the hard work and courage that nurses exemplify every day. Hilary Webb is one of those brave souls fighting COVID-19 today as an ICU nurse. Hilary is a graduate of WGU Indiana's pre-licensure BSN program and in this graduate spotlight Q&A, she explains how her online degree from WGU Indiana prepared her for braving work during a pandemic, shares advice for current or future nursing students, and tells us her ultimate career goals.
What first attracted you to complete your education with WGU Indiana? The fact that it was mostly online and that I could pace myself within each semester. 
Do you have a favorite memory with WGU Indiana? I enjoyed our lab days, because I got to interact with others in my cohort.
In your opinion, what makes WGU Indiana's College of Health Professions online different than other nursing programs? I think having the flexibility to do my classes from home made this program very attainable for an adult with kids and a job. I would not have been able to complete a nursing degree that was not online. I feel that the support that I got from my mentor really kept me motivated in the program. 
How do you feel WGU prepared you for life after graduation? I started working on March 23, 2020, on the ICU unit in my hospital. I was a bit nervous because of the coronavirus outbreak, but I also felt very prepared. Since I had the chance to work on this unit during my clinical rotation as a WGU Indiana student, I felt very comfortable with the environment, manager and my co-workers, which made the transition much easier. 
Now that you've earned your degree, what are your ultimate career goals? For now I just want to become a great bedside nurse. I don't have any immediate plans of advancing my career beyond that, but I am open to it in the future. 
What advice do you have for current WGU Indiana nursing students? Plan out your classes and give yourself weekly goals so that you can keep up with all of the reading. This helped me stay ahead in all of my classes throughout the program. I think always being ahead helped take some of the stress off.
What is one thing about you that people may not expect/know? Now that I am finished with nursing school, I have decided to learn how to play the piano. I have always wanted to learn, and since I am so used to taking time to study — I am just switching gears and using that time to study piano.