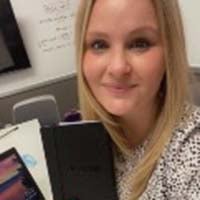 After years working in the medical field, Kim Joiner of Lebanon, IN, felt her career stalling. That's when WGU changed everything for her and opened more doors than she ever imagined. Now, she has landed her dream job as a Practice Manager at IU Health and is looking to advance her career even further by pursuing her master's degree at WGU.
Motivated by her desire to make the healthcare system better, Kim took the leap to complete her bachelor's degree in health management in the College of Business and made her dreams a reality. 
WGU's flexibility allowed her to reach her goals while also working full time and supporting her family. Without this flexibility, Kim wouldn't have been able to finish her degree.

Between the pandemic and personal life changes, Kim faced a lot of challenges while working toward her degree, but WGU continued to give her the support she needed. Kim's journey shows that with hard work and dedication, you can reach your dreams. Learn more about her story below:

What led you to pursue a degree from WGU Indiana?

I always knew I wanted to be in healthcare, and I quickly realized my strengths and weaknesses. I have been a medical assistant since 2011 and wanted to advance my career, but student loan debt wasn't an option for me. I loved WGU's platform because I didn't have to be on a campus, and it provided me flexibility with my busy schedule.

As an advocate for WGU's College of Business, you were sent a WGU embossed journal. What have you used your journal for so far?

The journals are so simple and perfect! I have already begun using mine as a talking point. People will say "Oh, WGU!" and I'll have an opportunity to share my story. One of my close friends is looking to go back to school, and after chatting with me, I got her to enroll in the healthcare program.

Describe your role as Practice Manager at IU Health.

The role of Practice Manager with IU Health Physicians is my dream job, and I couldn't have landed it without WGU. In this role, I oversee the multispecialty clinics at IU North and IU Tipton. I am responsible for the operation of the doctor's office.  I don't have one service line or specialty; I have multiple different service lines in the clinics and our job is to streamline their care. I oversee staffing, back office, front office, ordering, keeping lines of communication open and making sure the clinics and teams have what they need.

What drew you to a career in healthcare?

After my son's first birthday, he ended up in the ER. I know it was very busy and short staffed, but we were very worried about our son's condition. The doctor looked at us and said, "You're first time parents and your child is just sick," and sent us home. Fortunately, I trusted my gut, and we went back to the ER to get a second opinion and our son was admitted to Payton Manning's Children's Hospital. Thankfully, we now have a spunky almost five year old, but the whole experience had me rethinking my career.

I started thinking about nursing versus administration and the need to hold everyone accountable. True patient experience doesn't just stop with nurses or doctors; everyone in the office is responsible. I wanted to be that behind-the-scenes person to ensure no other patient ever has to experience what I did.

How has this past year changed your perspective on a career in healthcare?

Everyone plays a role in healthcare, and without them it would not be possible. It's a team effort. Not one department could survive without the other one. People in healthcare are so special in general, and that especially came to light during COVID. Without all staff, the healthcare system would fall apart.

What are your short-and long-term goals? How has WGU Indiana supported those goals?

My career aspirations are to be a service line administrator and perhaps pursue a director role eventually. WGU does a good job of constantly checking in, and as an alumni, I get a lot of webinars with great resources that help me in my career. The webinars are on topics like managing difficult conversations. I use anything I can to keep my skill set sharp and up to date. Getting a master's degree in health management will also open up more doors for me. Without WGU, I wouldn't have been able to obtain the goals I made for myself. It just wouldn't have been feasible.

What advice would you give someone who might feel called to a particular career path but not sure where to start?

WGU grows with you through life. All during the course of the pandemic, I got pregnant, changed jobs, dealt with death and built a house. Life happens, but don't let the fear of the future slow you down. Reach out and go for your passion. The rest will fall in line. I would also recommend reaching out and talking to an advisor. The enrollment counselors are great at helping you understand the differences with each program.

If I can do it, then anyone can do it. I'm married, work full-time and am a mother. My story is no different than anyone else's, so WGU should be part of your story too.