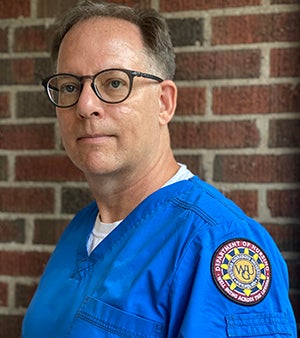 After 30 years as a working professional, Noel Frigo of Portage, Indiana, has decided to embark on a new professional journey - nursing. As a father of four grown children who are out of the house, he determined that now was the perfect time to pursue this life-changing dream through WGU Indiana. 
Noel recently passed the National Council Licensure Examination (NCLEX), a requirement for all WGU students in the Bachelor of Science in Nursing (BSN) Prelicensure program, the nation's first competency-based nursing program. He was one of eight students that tested in Q2 and all passed on the first attempt. For the past four quarters, WGU Indiana has had 100% NCLEX pass rates!
"I studied for a few weeks using the Hurst Review, which was provided by WGU and helped me prepare for the exam," said Frigo. "I've already applied for the MSN program at WGU and fortunately was accepted; the start date is August 1. While I pursue my MSN, my ultimate goal is to become a nurse practitioner. I recently earned my Indiana nursing license and accepted a position as an RN at a local hospital, so I'll be working there as I continue to pursue my master's." 

What led Noel to choose WGU Indiana and the prelicensure program in 2017 was through thorough research of nursing programs. He was immediately enticed by WGU's story and mission. The classwork fit his schedule—so he chose to apply and was accepted. Prior to starting the program, he worked as the head of an HR department in a medical facility, so he knew what nursing was all about and believed it would be the perfect fit for him. 

While Noel fortunately completed all of his clinical work prior to the onset of the COVID-19 pandemic, all of the work through the program is mostly done online anyway, making the program ideal for students that are seeking flexibility at any point throughout the year. 

For future nursing students, Noel shared some final advice. "The staff at WGU Indiana are very supportive," noted Frigo. "Utilize the staff that are there for resources to help you pursue your goals. In my experience, everyone has been very helpful." Noel's professional journey and decision to pursue a second career in nursing are a testament to anyone who has dreams of furthering their education or switching career paths, no matter your age, background, or education level.