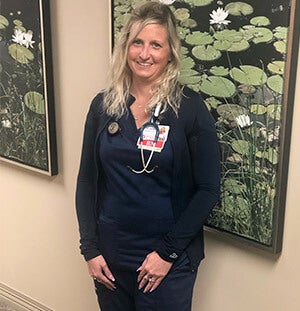 Because of the pandemic, nurses across the country have been working tirelessly on the frontlines to keep communities safe and healthy. These heroes serve day in and day out, selflessly protecting others and saving lives. WGU Indiana recognizes the dedication of these nurses, and as a result, we are celebrating our eighth consecutive Night Shift Nurses Week campaign, which aligns with the return to Standard Time when night shift workers add an extra hour to their normal schedule on Nov. 1. 
Shawna Bennett is one of many of these heroes, working day after day as a Registered Nurse to care for patients in the IMCU at Northwest Health-Porter. Shawna began her time at WGU Indiana in November 2017 pursuing her B.S. in Nursing, which she obtained in March 2019. She then returned to receive her M.S. in Nursing in January 2020. As a result of her consistent hard work and dedication to her community, Shawna was awarded the WGU Night Shift Nurses Scholarship in 2019, helping offset the cost of her MSN degree. This scholarship, worth $3,000, is awarded to night shift nurses returning to school in WGU's College of Health Professions. 
Shawna received this award due to her consistent contributions to the healthcare community. When she is not working as a bedside nurse, she schedules for the 100 other nurses, nursing assistants, secretaries, and monitor technicians within the IMCU unit. Additionally, she fills in with her hospital's Teleneuro Health, where she rounds with physicians on neurology patients throughout the hospital several times a week. Her contributions as well as her drive to continue her education at WGU Indiana has earned her the title of one of WGU's Night Shift Nurse Scholarship Recipients. 

How did you know that healthcare/nursing was the right career path for you? 

I love being able to care for people and make a difference in their lives, so I decided to become a nurse in 2010. I attended Bethel University - Mishawaka to receive my associate degree in nursing and graduated in 2012. From there, I started out as a floor nurse one step down from the ICU, and I decided to keep building my nursing skills by working as a Staff Nurse/Charge Nurse, Open Heart Surgery/General Surgery, Inpatient Rehabilitation Clinical Liaison, Case Management, and Stroke Navigator. I love that no matter what role I am in as a nurse, I am still making differences in the lives of others.
What led you to becoming a student with WGU Indiana? 

I looked forward to the flexibility and working at your own pace. I had several co-workers attend WGU, and they all really liked the programs. 
What aspects of WGU Indiana have proven more beneficial to you?  

I love that I am able to balance work, school, and family and achieve my educational goals. I am a single mom of a daughter who keeps me busy with all her activities, so the flexibility of WGU is very helpful. 
How did you learn about the Night Shift Nurses Scholarship? 

I learned this from my WGU mentor, Christine Wegner. She was so encouraging, and she even sent me the links to apply to the scholarship program.
What was your reaction to learning you were a recipient?

I felt honored to receive this scholarship. I had finished my BSN through WGU in March of 2019, and I really wanted to go back for my MSN. Earning this scholarship pushed me to pursue this degree and ultimately advance my career.  The Night Shift Nurses Scholarship has eased the financial burden that comes with returning to school, so I can focus more on working to obtain my degree. Additionally, to receive the recognition meant that my hard work has paid off and shown me how rewarding a career in  nursing is. 
What is your goal after earning your degree?

My goal after earning my MSN is to pursue nursing leadership or education. Since first becoming a nurse in 2012, I have always wanted to continue expanding my career and sharing my knowledge of nursing with others. 
What recommendations would you give to future WGU Indiana students? 

Take the next step in your journey and attend WGU. They are professional and very helpful in guiding students to success!
To encourage night shift nurses like Shawna to pursue their dreams of going back to school, WGU Indiana is offering the WGU Night Shift Nurses Scholarship, worth $3,000, to night shift nurses returning to school in the College of Health Professions. Applications are due Dec. 31, 2020.