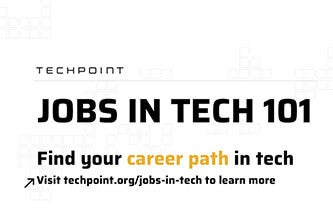 It's no secret that the tech industry is continuing to grow in Indianapolis and throughout the state. If you're interested in making a career transition into the growing field of tech, you may be wondering if you're prepared: "Do I need to know how to code?" "What training would I need to undertake?" "What if I don't have any prior tech experience?"

These are all questions that can potentially create a wall between someone considering the tech industry and taking action.
In 2018, 12% of WGU Indiana's students were enrolled in information technology programs focused on cybersecurity and information assurance, software development, and cloud and system administration. WGU Indiana is expecting to see this percentage rise as Indianapolis offers tech initiatives such as TechPoint's Jobs in Tech 101, which is aimed at educating Hoosiers about the types of occupations and jobs in the tech industry.
For those considering a career in tech, TechPoint's Jobs in Tech 101 is a valuable resource built from TechPoint's research on the Index, the Department of Labor's O*NET database and consultations with 30+ industry professionals. Jobs in Tech 101 provides insight from Hoosiers who are currently working in tech careers, offering insider perspectives on necessary skills, recommended resources and even what a typical day might look like for a variety of tech-based occupations.
Find more information on WGU Indiana's degree opportunities in information technology here.