Newly commissioned U.S. Air Force Officer Thomas Mendez knows better than anyone that the internet is a source of both good and evil. 
Having just completed Officer Training School in September, Second Lieutenant Mendez will now "help our country go after the bad guys in cyberspace and defend our country from the bad guys," as he puts it.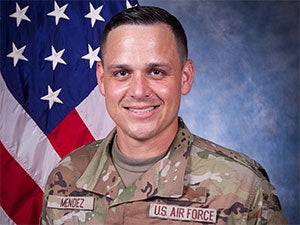 But Mendez would not be eligible for the officer rank—nor would he be taking up the cyber warfare battle—without the bachelor's degree he earned through online education.
Specifically, through Western Governors University. 

Mendez, who grew up a military brat and the oldest of five boys, attended high school first in Stuttgart, Germany and later graduated from Yuma, Arizona. Mendez' father was a parachute rigger for the U.S. Army who believed in hard work. His mother pursued a career as a registered nurse—a drive that took 18 years to complete. "She was my inspiration and she taught me the value of education," says Mendez.

In the switch of high schools to Yuma, Mendez found a "big change in environment" and a "lack of accountability." Mendez' parents didn't promote college. "They were letting us figure it out on our own and at that time I didn't have that life-long learner idea in my head. Nobody was really telling me to go college and push myself."

Joining the U.S. Air Force was considered a "last ditch option." But Mendez was jolted by what he found.

The Air Force pushes education, promotes education, and supports ongoing—yes—education. The Air Force even runs its own community college, Community College of the Air Force, and awards accredited associates degrees (from 71 different degree programs). 

In the Air Force, Mendez found mentors who were working on their continuing education, bachelor's degrees, and graduate degrees as well. Mendez' first commander urged Mendez to pursue an undergraduate degree. That commander, said Mendez, instilled in him a question that resonated for a long time: "What are you doing to better yourself—not just what the Air Force gives you, but on your own time?"

Mendez took a course in public speaking at Minot State University (his first Air Force assignment was to North Dakota) and started looking for an online university. The concept of taking college classes was "relatively novel" in 2008. A colleague showed Mendez the details about Western Governors University and how it worked.  

For Mendez, WGU clicked.

Mendez loved the competency-based model. He liked the regular, dependable check-ins from assigned mentors who held him accountable for work. He liked the overall philosophy of self-teaching. He liked the proctored final exams. By the time he signed up with WGU, Mendez already had considerable experience working and managing Air Force computer networks so there was some overlap with what he was being taught at WGU but Mendez appreciated the business perspective (as opposed to government perspective) that was coming into the virtual classroom.

WGU's flexibility also fit with the complications of his military career, coupled with starting a family. A brick-and-mortar campus was not an option for Mendez, who bounced from state to state per military orders. Mendez calls the WGU approach "plug and play." It didn't matter where he lived, he always had a university home. 

Mendez spent three years in Minot, four years at Buckley Air Force Base in Colorado, four more at Lackland Air Force Base in San Antonio, three years in Hawaii, and he's now assigned to Keeler Air Force Base in Mississippi, a key base in the Cyber Warfare Operations.

Mendez' path to his Bachelor of Science degree included a one-year break beginning in May of 2011 and a 2.5-year break beginning in October of 2013. But Mendez persevered—and never lost sight of his goals. Each time he returned to WGU, he says, he could "pick up right where I left off."

His pride today is palpable. The security provided by the undergraduate degree was a major goal. And becoming a commissioned officer. And becoming the first person in his family to earn a four-year college diploma. And demonstrating to his two daughters about the value of education. "It's about putting in the work, the after-hours study, and being persistent," says Mendez. "I'm glad I was able to finish—for sure."

Mendez lauds the modest WGU course fees. "These are some of the lowest costs of any university out there," he says. He encourages anyone who is curious to at least give WGU a try. 

"There is no harm to giving this means of communication—and learning—a shot," he adds. "See if it works for you."

And it's still working for Mendez. He's working on his master's degree in information assurance through WGU.  Anticipated graduation: 2022.