WGU places great importance into our employee focused diversity, equity, and inclusion (DE&I) initiatives to ensure that we are a catalyst for fostering a diverse and inclusive environment for all. One of those initiatives is our Employee Resource Groups (ERGs), of which we have 11 and counting!
ERGs are university recognized and supported, voluntary associations of full-time and part-time employees with common interests. They practice inclusivity by extending membership to all WGU employees.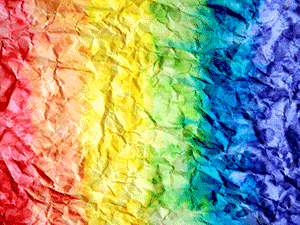 ERGs are designed to provide strategic support to WGU initiatives, increase employee engagement, retention, awareness, professional development and support a higher performing workforce.

One of our ERGs is PRIDE Owls whose mission is to promote an inclusive community for lesbian, bisexual, gay, transgender and queer employees. PRIDE Owls supports WGU's efforts to diversify staff and faculty, and will work to recruit and retain LGBTQ+ identified employees.
PRIDE Owls serves as a visible, accessible resource for LGBTQ+ identified employees and their allies and will provide LGBTQ+ focused networking, educational, and social opportunities for the WGU community. PRIDE Owls is open to all WGU faculty and staff.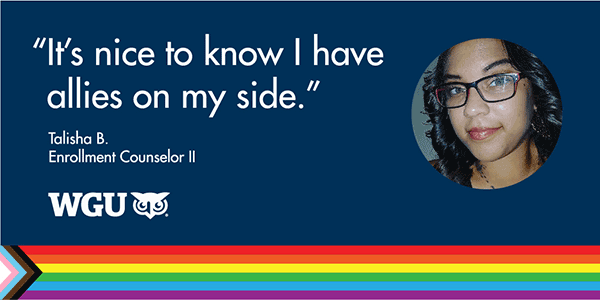 Talisha Bedwell, a WGU enrollment counselor, was taken by surprise when she first learned of the PRIDE Owls ERG.
"It was actually a shock to me. I didn't know it existed at WGU, so being invited was shocking. I didn't know there was anyone out there. Usually at my jobs we don't have this type of thing," she said. 
Talisha has since jumped in and found it rewarding to participate and contribute to the group.
"It was definitely very welcoming after joining; just knowing how many people I have on my side within our LGBTQ+ community. Just getting to know everybody and being able to have this safe place to go and talk. Since I've been in, I've taken part in many things that we've had and have also been a panelist. It's definitely fun and exciting to be able to share that side with everybody at work. We also have allies at WGU that may not be in the LGBTQ+ community but they are willing to fight for us and our equality no matter who we are."