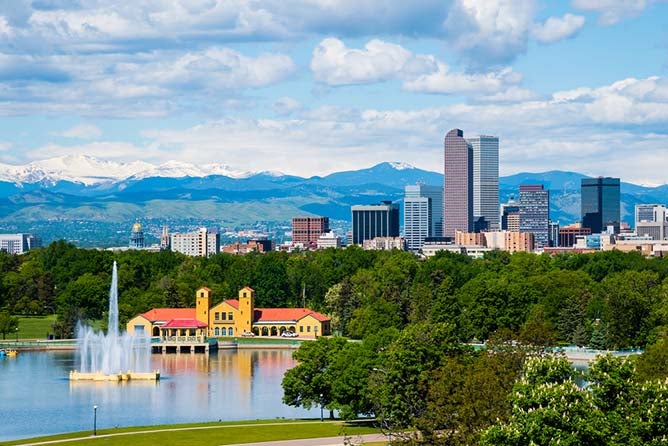 Think of Denver and you might think of the Broncos, the Rocky Mountains, or even the city's Old West roots. But the Mile High City is also home to some of the biggest companies in the country—and they all need skilled IT professionals to maintain the tech that keeps them running.
Part of the reason the Mile High City is an ideal place to find work is its low unemployment rate—only 3 percent in 2018, according to the U.S. News & World Report. And the area pays well: The average annual salary in Denver is $57,400—13 percent higher than the national average.
If you're looking for IT jobs in Denver, you're in luck.
What is an IT job?
IT is a vast field filled with knowledgeable professionals with technical skills, creativity, and backgrounds in communication. IT professionals engage with technology in a wide variety of ways. Some entry-level IT professionals manage the help desk, where they assist their colleagues in maintaining their computers and passwords and troubleshoot any problems that occur. More advanced IT employees might design software, create applications, or work exclusively with data. Others might specialize in cybersecurity and protect their organizations from cyberattacks.
Because technology is a fundamental part of every industry, organizations across the marketplace need IT professionals to build and maintain networks, analyze data, program computers, manage IT teams, and plan strategic technological initiatives.
And the job outlook for IT workers is excellent. The Bureau of Labor Statistics predicts that IT jobs will grow by 12 percent by 2028—much faster than the average growth for all jobs.
IT jobs in Denver.
Some of that IT job growth is definitely happening in Denver. Amazon announced this year that it will be expanding its Denver Tech Hub, creating 400 new tech jobs and almost doubling the technology workforce of the area, CNBC reports.
Amazon isn't the only corporation heading to Denver. Lockheed Martin recently relocated its headquarters to the city, creating a center for aerospace-related technology jobs. CNBC recently named Denver as one of the top cities for aerospace-related jobs, many of which rely on expertise in software development and systems maintenance.
Many more major companies, including HealthONE, Kaiser Permanente, United Airlines, and Wells Fargo also have footholds in Denver. IT professionals with backgrounds in health information management or data management can find a fulfilling role at biotech or telecommunications companies—two industries that are particularly prominent in Denver.
Logistics specialists, data center technicians, system administrators, and IT directors are usually in high demand in Denver. Those jobs are just the tip of the iceberg: job posting clearinghouses like Indeed and Glassdoor usually list thousands of IT jobs in the area.
Landing a job in the Mile High City.
With its moderate climate, picturesque landscapes, and thriving tech industry, Denver is a great place to start or continue your IT career. If you're hoping to advance in your career, you're likely going to need a bachelor's or master's degree. Degrees for IT workers include a bachelor's in information technology or a bachelor's in cloud and systems administration. These degrees help you develop the technical skills you need to succeed in any area of IT. Those who aspire to management or executive positions, such as chief technology officer, should look into an advanced degree, such as a master's in information technology management.
Denver has it all: beautiful mountains, a bustling city, and booming employment. If advancing your IT career in an evolving city sounds good to you, consider Denver for your next move.