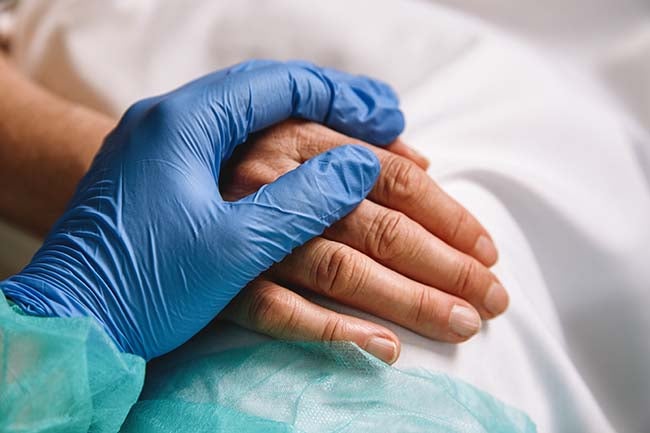 The coronavirus pandemic has affected almost every aspect of life. Many Americans have experienced drastic shifts in the way they work and enjoy leisure time. Even the healthcare industry—usually thought of as one of the most stable, most recession-proof job markets—has changed. As a result, healthcare organizations have restructured care units, furloughed some personnel, and reassigned staff to help in the COVID-19 response.
The way healthcare is provided might change in response to coronavirus, and healthcare jobs might change as a result. But it's still possible to find a rewarding career providing clinical care to others. If you're interested in working in healthcare, you'll need the determination to provide top-notch care to every patient to adapt to life after COVID-19.
Coronavirus and healthcare jobs.
According to data from the U.S. Bureau of Labor Statistics, the private education and health services sector saw the strongest and most consistent job growth between 1915 and 2015, experiencing an average growth of 3.7 percent each year. The industry's resilience during economic downturns fueled that consistent growth—during the Great Recession, the bureau notes, the healthcare sector added 431,000 jobs, even as the U.S. economy lost 7.4 million jobs.
But healthcare hasn't been immune to the COVID-19 pandemic. According to the New York Times, the United States had lost 1.4 million healthcare jobs by May 10. How has this industry, once thought to be invincible against bad business cycles, been so affected?
The answer is multifactorial. Major medical procedures, such as heart transplants, are still being carried out, but many elective surgical procedures have been cancelled or postponed. Additionally, many individuals have chosen to avoid emergency departments, private physician's offices, and other healthcare clinics in efforts to avoid infection. As reported in the Washington Post, an online Gallup poll taken between March 28 and April 2 found that 86 percent of people with heart disease said they would be either moderately or very concerned about visiting a hospital or doctor's office if they needed medical treatment.
The persistent demand for nurses.
It's impossible to exactly predict the future of healthcare. But experts expect that many jobs, such as administrators and registered nurses in certain specialties, will return after the pandemic has passed.
According to the World Health Organization's State of the World's Nursing 2020 report, the demand for registered nurses is also expected to continue to grow. The WHO estimates there is still a worldwide shortage of about 5.9 million nurses, with low- and middle-income countries shouldering the brunt of that shortage. And an aging nursing workforce continues to jeopardize the number of nurses available for the front lines, especially in the United States.
That's why job postings for registered nurses are still on the rise. Glassdoor reports that registered nurses top the list of in-demand healthcare professionals and notes that many organizations are seeking nurses to help with the pandemic response.
Technology's evolving role in healthcare.
In private doctors' offices around the country, managers are hoping to rehire workers who've been furloughed or hire new staff, including nurses, when patient volume picks back up. But these jobs might look different: nurses preparing to enter the workforce should expect that their proficiency with technology will become more important, especially as telehealth becomes more common in patient care as people grow more concerned about the coronavirus and healthcare providers prepare for more cases.
According to Science Daily, virtual urgent care appointments increased by more than 600 percent, which could indicate a shift in how patients connect with providers. Many patients are exploring this method of patient care for the first time to protect themselves from COVID-19—and many patients and providers have reported positive experiences.
The pharmaceutical industry will likely also seek out healthcare professionals in large numbers to help people learn about emerging COVID-19 treatments and promising vaccines. And businesses that track the spread of COVID-19 will need tech-savvy nurses to help create databases and perform contact tracing that can be used to influence public healthcare policy decisions.
It's likely that healthcare jobs will rebound after the pandemic passes, but anyone interested in healthcare should be ready to adapt to a new way of doing business after COVID-19. The right education, coupled with on-the-job training, will make it possible to succeed in healthcare in the post-pandemic world.