By Belle Gironda - Course Mentor, Composition
At WGU, each student is assigned a personal faculty member to work with them as a mentor throughout their time at WGU. Additionally, each course has its own course mentors, subject-matter experts who are available to help students get through course material. Advice from your mentors is invaluable as you make your way through your online degree program. But we also want you to benefit from the wisdom of mentors not necessarily assigned to you, so occasionally, The Night Owl features advice from WGU mentors in colleges throughout the university.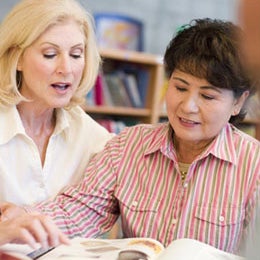 "We do not learn from experience. We learn from reflecting on experience." – John Dewey
Unlike everyone and everything else in your life, I'm going to ask you to slow down for a minute. As a student at WGU, you're probably juggling a lot of different responsibilities and demands on your time. You may have to squeeze study-time into a crazy schedule that also includes work and/or family responsibilities along with who-knows-what-else. You're struggling against the calendar and racing through your long full days trying to complete as many CU's as possible during a given term. You're probably thinking, "When do I have time to slow down and how could that possibly be good for me?
One of the interesting things that we know about learning is that it involves not only the challenging work of reading, taking notes, studying, and composing papers but also the sometimes less-visible process of reflecting on those activities and experiences. Under ideal conditions, learners should have opportunities for reflection before, during, and after completing a learning experience. This reflection process might include asking questions like:
What do I already know that might be useful as I approach this new learning experience?
What don't I know that I will need to learn more about?
What kinds of valuable skills and information can I take away from this experience?
What comes easily to me and when do I struggle the most?
How does this class relate to others I have taken, or will take, or to my career goals?
What did I actually learn here and how deep is my understanding?
What were the most rewarding and/or frustrating aspects of the process?
What might I do differently next time?
Our brains are well-equipped to look for and identify common patterns, to make connections and to learn from experience. The brain also likes to connect new knowledge to our daily lives, to the world around us, and to the things that are important to us (our values). Educational research suggests that building time into our learning processes for active reflection can help deepen the knowledge we take away from a learning experience and can also make us better learners in the future.
So, what might it look like to "slow down" and try to include some active reflection into your life as a WGU student? Well, I'm not just saying this because I'm a writing teacher, but it turns out that writing is a great tool for reflection. One good way to start to build some reflection into your learning life is to keep a notebook or "Learning Journal" where you use regular informal writing to sort through your thoughts and feelings about courses and assessments as you tackle them. Below are some suggested writing activities. These barely scratch the surface of how you might use your personal learning notebook, but they make give you some ideas to get started.
Before you start a new course:
Read through the course competencies and consider and write about how and why they may be important or useful to you. What do you already know about these things and how do you use them in your daily life? What would you like to learn?
For example, in Composition I (TBP1, one of the courses that I support and that most WGU students have to take), one of the competencies says, "The graduate composes an appropriate argumentative essay for a given context," and another says, "The graduate integrates credible and relevant sources into written arguments." At first, these might sound like slightly foreign concepts, but most of us use some forms of argument in our professional and personal lives on a regular basis. If you're in nursing, you may regularly find yourself working to convince a patient about the efficacy of a wellness program and the health benefits of certain types of choices. People in business fields like marketing make arguments for a living—and the list goes on. You are arguing for these choices and you're also likely presenting credible and relevant evidence to support that argument. How, in this Composition course, can you draw on your previous experiences with making and supporting arguments, and what new things would you like to learn about this process?
While you're in the midst of the course:
If you're struggling with some aspect of the course, journaling about it may be helpful, both in the short term and in the long run. Reflecting on your challenges can help you to understand them better and may help you to ask better questions to get the help you need. For example, if you're taking a writing course such as Composition I or Composition II, you will have to demonstrate your competency with the APA citation style. If you're having trouble getting this, it can be helpful to think about and make some notes about what you do not understand. Is it the concept or the technicalities, or is it where to find good models and how to use the available guides? If you can identify the issue, it can help you to ask for the help you need. Also, because learning is an affective (emotional) process as well as a cognitive one, this kind of journaling, in moments of frustration, can help to relieve the stress and make you feel more in control of the problem.
When you have finished the course:
Ask yourself, and write about, what you can take forward from here and how can you use it. Sometimes there will be things you know you will have to use again, like algebra if you're going on to calculus, or like writing a good thesis statement as you move forward from Comp I to Comp II. Now is a good time to assess your command of those things. Are there gaps in your knowledge? If so, what can you do about that? It's also a good time to inventory what you learned and to reflect on its value. Ask yourself, "How can I use this to be a better teacher or a better network administrator or a better leader in my community?" Sometimes the applications will be obvious; other times you may have to really use your imagination—but that process of reflection should help to make your learning more meaningful and more enduring.
---

My name is Belle Gironda and I'm a Course Mentor in Composition. I joined the WGU faculty in January of 2013. It's been such a great pleasure to meet and work with students from all over the country. I'm inspired every day by your commitment, your energy, and your fascinating lives. I live in Asheville, N.C., where, when I'm not writing or teaching writing, I dig in my garden or hike the Blue Ridge and Smokey Mountains.