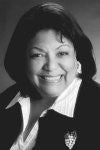 By Mary Gordon, MBA
IT Program Mentor
At WGU, advice from your mentors is invaluable as you make your way through your degree program. Mary, a Certified Etiquette Consultant and former Program Director at the Academy for Emerging Professionals, shares tips to help you ace your job interview luncheon. 
More and more employers are conducting interviews over a meal, but it is not new. They are adding the Edison Test to their hiring process. Thomas Edison, inventor and businessman, would always invite a potential assistant over to eat. He said if the person seasoned the soup before tasting it, the individual did not get the job. So, how does your dining skills measure up?
We have all heard the expression, "You rarely get a second chance to make a good first impression". This is easily applied to the meal you are about to share with your potential employer. How you behave before, during, and after the meal can tell your host something about your character, your professionalism, and your social acumen. 
If you have never taken an etiquette course, there are plenty of resources online. Don't let dining faux pas or idiosyncrasies eclipse your personality and your competence. Remember, this is a communicative business meal. The employer has read your résumé. This invitation is to find out whether or not you will be a good fit for the organization. This meal is an evaluation of your social skills, how gracefully you handle yourself under pressure and, for some roles or positions, your client/customer-facing mannerisms. The evaluation starts from the time you meet at the restaurant to the time you leave; and, how you treat everyone you meet during the meal. Don't let your guard down. Don't let this meal become too casual and inappropriately personal.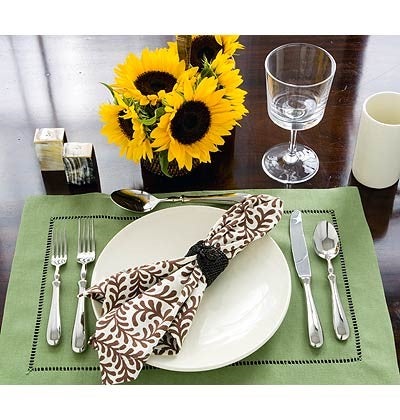 If you keep these general tips in mind, you will be more poised and more confident before, during and after the interview meal. 

Google the restaurant beforehand. Program your GPS. Familiarize yourself with the menu. Pre-select 2-3 items in a nominal price range that are not messy or complicated foods to eat. Know how long it will take you to get there and where you are going to park.
Discuss beforehand where you will met / how to recognize each other. Typically, you want to wait in the lobby area for your host. Arrive 10-15 minutes early.
Do your homework about the organization and its culture. This is a good meal topic.
Bring copies of your résumé, a small notebook for notes and a pen stowed in a small business portfolio or large purse portfolio. Place this item beside you (on the bench or open chair) or on the floor by your feet. Don't create a tripping hazard for the server. Do not hang your purse over the chair. Do not put any personal items on the table, i.e. sunglasses, keys, phone, etc.
Jot down important points from the interview when you get back to your car.
Dress: Business professional. Good grooming and hygiene (including nails). Go easy or avoid perfume. No smoking prior. No gum. Breath mints are better. Have shined/clean shoes (check those heels!)
The greeting: Firm handshake. Eye contact. Smile. Thank him/her for meeting with you.
Tip: Beware of the overly amicable interviewer. Companies have been known to arrange an interview with someone around the age of the potential employee to possibly entice the individual to let his/her guard down – open up more. Remember, this is business, not personal.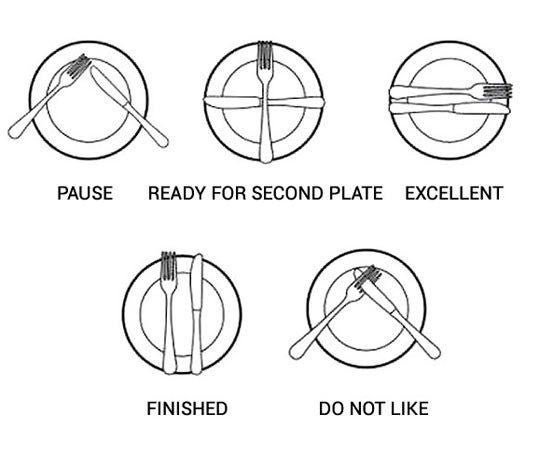 Be courteous to everyone: Say please, thank you, excuse me. Do not touch your hair/face. Sit up straight. About 80% of communication is expressed by body language. Keep your voice low and tone conversational and friendly.
Turn off your cell phone or place it on vibrate. Avoid taking calls.
The Meal and the Bill: Eat a small snack before you go to your interview so your stomach doesn't rumble and you are not so hungry you spot clean your plate. Your host pays for the meal. Do not order a meal more expensive than your host's meal. **Remember: you have seen the menu beforehand and pre-selected 2-3 items. Now you can order a meal in the price range of your host quickly and decisively.
Do not season your food before you taste it. This could signal blind devotion to routine and you are not open to new ideas, flexibility or creativity. The Edison Test!
Take small bites of food. Easy to chew and swallow. Do not blow on your food. Cooler food is around the edges.
Try not finish before your host. Pace yourself. Do not push your plate away from you when you are done. Do not wad up your napkin and put it in your plate. Place it neatly to the left side of your plate. Place silverware in your plate to let the server know you are done.
Silverware: Basic Rule – beverage glasses will be on the right. Forks on the left. Knives and spoons on the right. Start from the outside in toward the plate. Don't hold your utensil after you put food in your mouth (lay it on the plate); and, don't wave it around when you are talking like a baton.
Conversation: Weather, sports, vacation, the host's organization, the job (have prepared questions). Study some popular interview Q & As on the Internet. Be prepared, but try not to monopolize the conversation. Finally, don't say anything bad about anyone or anything because you never know the affiliations of your host.
Don't be in a rush. Let the host set the pace and tone. Look for cues that he/she wants to wrap it up. If the host orders a dessert, order one if you want one; if not, get a beverage so the host is not eating alone.
Do not offer to help with the bill, i.e. coupon, tip, etc. you are the guest.
Do not ask for a 'doggie bag/to-go box' – this is inappropriate.
Restate your interest in the job and the company.
Thank the host with a firm handshake. Thank him/her for taking the time to meet with you. Let him/her know you appreciated the meal.
Follow up with a thank you letter the next day (thanking him/her again for the meal and nice time).
If you need assistance with interview preparation, a résumé, career self-assessment or job search contact with the WGU Career Center: http://national.careerservices.wgu.edu/    
Good Luck and Bon Appetit!