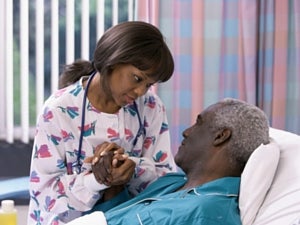 WGU Night Owl nurses serve many different types of roles in their places of work—whether that be a hospital, school, treatment or care center, or 'telehealthing' from home.
As part of National Nurses Week, we wanted to take a look at the diversity of nursing roles that exist out there, and to learn more about just a handful of them. So we put a call out to the nurses among our Facebook fans, asking them to describe what kind of nurse they are and what they do at work. And we got all kinds of responses!
Below are just a few of the many responses we received. Thanks for sharing, nurses. Kudos for all the different kinds of care you provide, day in and day out!
"I'm a pediatric nurse and preceptor for both students and new hires. I take care of patients from birth to 18 years old and pretty much any diagnosis that isn't oncology or requiring intensive care. Assessments, medication management, and advocating for my patients are only a small part of what I do. When I'm taking care of child abuse victims I'm mom for my 12hr shift since often no family is legally allowed. Cuddles, midnight tears, and night terrors, I'm there through it all. For parents frustrated things aren't the way they planned, especially for those whose lives have been turned upside down by a diagnosis, I'm a sounding board. When I work with kids who have attempted suicide, I am there as their nurse, but also their counselor and encourager. When I see kids recovering after pain and surgeries I'm their cheerleader. I'm screamed at, kicked, pinched, bitten, cursed at, peed and puked on...but I wouldn't change my career for anything. The smiles, the laughs, a call light ringing at 0200 with a four-year-old asking for their nurse to come color with them…it is all worth it." –Genevieve, MSN in Leadership and Management student.
Nurse educators serve as important resources for new staff, graduates, or even BSN students on just about anything. From IV therapy and policy to traumatic brain injuries and strokes to bariatrics to basic clinical skills, our WGU nursing students and alumni seem to be on track to teach, or already are teaching, just about anything!
Current MSN Management and Leadership student Jessica says, "In 2011 I was given the opportunity to begin my flight nursing career on a helicopter in Charleston, SC. A year later I began 'floating' across the country working at our bases to fill staffing needs. I was privileged to travel from Miami to Seattle and North Dakota to the Arizona/Mexico border. I worked on two types of helicopters and three types of planes. All the while learning what 'flight nursing' entails in the different regions of the country."
Fellow flight nurse, MSN graduate, and past WGU commencement speaker Bryon explains what working in this field is like for him: "I fly in a helicopter to evacuate patients from the scene of an accident or critical patients from a smaller hospital to a larger facility or specialty hospital (e.g. trauma center). I've wanted to be a flight nurse since I was in high school. It's the perfect combination of field medicine and critical care. Plus, the autonomy and critical thinking skills of a flight nurse are perfect for me."
MSN student Kris describes the difficult circumstances she encounters as a forensic nurse examiner in a nutshell: "I work with anyone who has been assaulted or abused, regardless of age. I document their story, perform medical-forensic exams looking for and collecting evidence, perform medical photography, maintain the chain of custody as it pertains to evidence, and testify in court regarding what I've seen and heard. I also am occasionally asked to collect evidence from offenders. I chose this specialty because within my nursing career I had the privilege of spending 12 years as a firefighter paramedic. I have been on many scenes of assault and suspicious circumstances. It was difficult to only be able to spend 30 minutes with my patient as we transported them to the emergency department. I felt like I wasn't able to fully comfort and support them. In this job, I feel like I have come full circle. As my patients are telling me their story, I am now able to take the time to really listen and give them that eye contact and compassion. That patient-centered care that we all strive for."
Current MSN student Tina talks about what it's like to work as a critical care transport nurse: "As a CCTN, all of my patients are 1:1 in the back of an ambulance. At times, I have to become pretty innovative to meet the patient's needs. I transport both pediatric and adult patients, with patients ranging from premature labor, to organ transplants, to patients with LVADs (Left Ventricular Assist Devices). I transported a 2-year-old with Hashimoto's [disease] about four weeks ago. I have to be prepared for anything and everything! The pace is fast and every day, every patient is different."
Float nurses serve a wide variety of units and practices in any given facility, creating the need for a wide knowledgebase and the ability to care for patients from all walks of life with all kinds of ailments. MSN student Callie is a medical-surgical float nurse and says she works "on all medical and surgical inpatient units in the hospital, and will also sometimes work on intermediate care units, depending on the needs of the hospital. The purpose of this position is to meet the specific needs of the hospital on any given day. I am incredibly flexible, and will go anywhere and do anything." Current BSN student Danielle says, "From day to day I can be in family birth or progressive care or surgical or the telemetry floor." 
Sandra, a current MSN student, works in the quality patient safety department. "I audited a chart for a physician one day and the rest is history. I was hooked on the quality realm of healthcare and love it! While I am no longer at the bedside caring directly for the patient, I provide care indirectly. Our team assists other nurses in provided safe care, improving outcomes, and providing the best evidence-based care at the bedside," she says.
BSN graduate Tina is the clinical care coordinator and transplant coordinator for a VA facility. "I am the community liaison, service level patient advocate, and work with disruptive behavior. I started my career in the operating room and never thought I would leave. I wouldn't trade my job for anything. There's nothing better than working with our veterans!" she says.