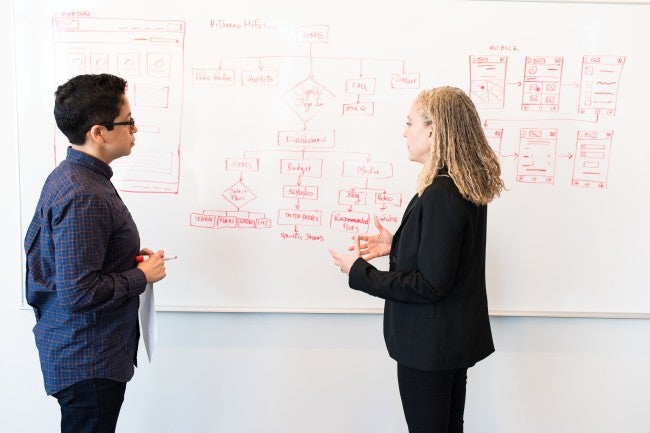 What is marketing management?
Getting your name out there. Developing a brand. Connecting to consumers and potential customers. Marketing is the key to every part of your organization. And your company needs managers who can oversee all the elements of marketing efforts to ensure they're successful.
Marketing management is the supervision, evaluation, and tracking of your marketing resources, activities, and strategies. A manager's job could be to oversee all the marketing of a business's products, services, the business itself, or all of the above, just depending on the size of an organization and the job title. Anything that the company does relating to marketing strategies is all part of a marketing manager's job.
What does a marketing manager do on the job?
Marketing managers have a wide variety of elements in their job description and again, the type of organization they work for may dictate their specific job responsibilities. Many of their daily job responsibilities may include:
Managing budgets for marketing resources

Conducting marketing research for sales executives

Managing other marketing employees and their job tasks

Evaluating the performance of marketing campaigns

Communication and reporting of marketing and advertising efforts to executives

Communication of marketing strategies to the rest of the company

Brainstorming new campaigns and promotions

Evaluating customer types for sales executives

Overseeing all the individual aspects of marketing campaigns from social media to TV

Helping establish a brand for the company or products

Working with other senior executives to incorporate the right tone and message into marketing materials

Brainstorming new promotions for new products
How much do marketing managers make?
Managers often have a high salary, and in many cases, they can get additional compensation from commissions or bonuses when sales rise as a result of their job. Managers often are more seasoned employees in a company, with experience in their past that helps qualify them for a management job. This is part of the reason that can they expect higher salaries, due to their previous experience.
Entry-level marketing manager salary.
According to Glassdoor, entry-level managers can expect to earn a median salary of around $68,000 per year. The BLS agrees, showing that the lowest 10% of managers earn a median salary of around $69,000 per year. An entry-level manager's salary will vary based on their previous experience and education, as well as the organization where they are hired. But this entry-level salary for marketing managers is much higher than the national average salary, which is only $56,000 per year. 
The Bureau of Labor Statistics shows that the average salary for all marketing managers in the United States is over $132,000 per year. This high salary demonstrates that managers often have many direct reports, are in charge of many high level projects, and are on a senior level in an organization. Marketing managers play a vital role in the future performance of sales in an organization, meaning a marketing manager who knows what they're doing is key for a business. Thus, organizations are willing to pay top-dollar to get a great marketing manager who can help their business succeed.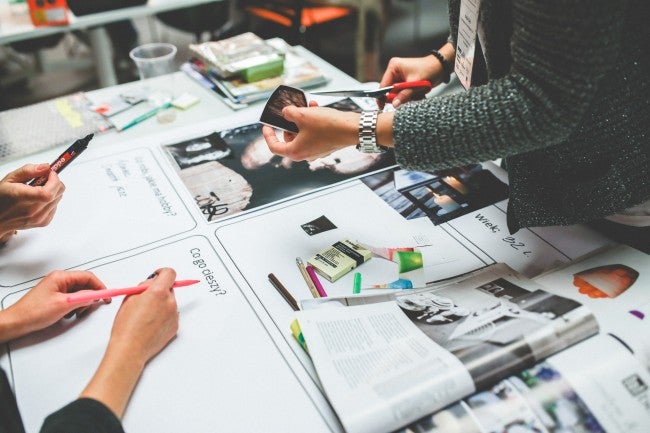 How to become a marketing manager.
A bachelor's degree in business, marketing, advertising, or a related field is, generally, the minimum requirement for most marketing jobs. But if you want to really stand out from the competition, getting a marketing management degree is the most solid option. Your bachelor's degree will help you learn the skills and marketing basics you need to be prepared for a career in marketing. You should also plan to work your way up in marketing to become a marketing manager. You'll need some experience working in the industry before you move up to a manager level. A master's degree can work to help set you apart as you strive to get a manager job.
Marketing manager skills.
There are a variety of skills needed to be a successful marketing manager. Some of these skills include:
Critical thinking. This skill is huge for marketing managers who are coordinating many campaigns at one time.

Communication. From communicating to employees to communicating to consumers, marketing managers have to be excellent at communicating.

Creativity. Creativity is essential for marketing managers who must use many mediums to create cohesive campaigns that will attract consumers. 

Sales understanding. Marketing managers need to have an understanding of sales and the sales process to know what kind of customers to target their marketing efforts toward.

Organization. With different deadlines, unique campaigns, and changing targets, marketing managers have to be organized to make sure all their deadlines and goals are met.
If a career in marketing sounds exciting and fun to you, get started with a degree from WGU. Our degree programs are created to help you get the skills and credentials you need to find success as a marketing manager.