By Brenda McLane
Elbert Starks didn't start out exuberant about college. In 1985, he had a full ride wrestling scholarship to IU. Like so many, he wasn't ready to take college or life, seriously. But, wow, has that ever changed!
His true education journey began in 1996 when he graduated from Ivy Tech with a respiratory therapy degree. He worked in Ft. Wayne, then Indianapolis, when he received a call about an opening at the Ft. Wayne Fire Department. He had always wanted to be a firefighter, so he took that job in 1997 (and with nearly 20 years seniority will be eligible for retirement within the next 60 days!).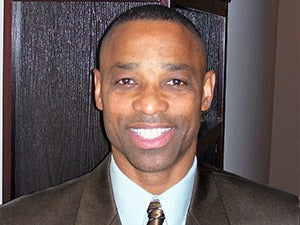 Since his sister graduated as a traditional student with a bachelor's degree from IU, Elbert had wanted to achieve at the same level. In 2013, at age 46, he enrolled at Columbia University, online. After completing the program, he realized a fever for learning, and wanted a master's degree. Back to that sister… Was he motivated by sibling rivalry? Maybe, but in a short conversation, it was easy to tell he loves learning — especially when he can apply it to relevant life situations.
In the midst of his research of master's degree programs, Newsweek published an article about the competency based education model WGU offers. Elbert was intrigued by the ability to accelerate through information he knew, and the opportunity to be challenged by new topics. With a healthcare background, and serving in a leadership position at the fire department, he decided to contact WGU regarding the Masters in Healthcare Management.
Elbert said the WGU support was continuous from enrollment to graduation. Numerous front-end conversations revealed this was a University that wanted "him" to succeed — they weren't just focused on enrollment numbers. Throughout the program, and periodic struggles, WGU support stayed strong. He gave great credit for his success to his Program Mentor, Madonna, as well as Course Instructors who were available as needed.
Elbert knew the healthcare side of his WGU degree program, but the business and leadership side was new — keeping him engaged and looking forward to spending time in class. He loved that the WGU model focused on sharpening critical thinking skills and helping students retain what they learned. And, the relevance of this degree helped him both personally and professionally.
He encourages others to consider WGU Indiana for their bachelor's or master's degrees because of the accelerated model and ability to squeeze in additional classes, saving money by spending minimal time on what you already know. While he is happy with his bachelor's program, he got his master's for 2/3 the cost of what he paid for the former.
Now, the only family member with a master's degree, he is moving on to the Ph.D. program at Indiana Wesleyan University, studying Organizational Leadership and Development. Elbert feels his easy acceptance into IWU speaks to the integrity of the WGU degree. He is excited to become Dr. Elbert Starks (he didn't call himself Dr.) and begin giving back by working as a community leader in the nonprofit world. He looks forward to walking across the WGU graduation stage in October and continuing at IWU. He went from "the 18 year-old kid that didn't want to go to college to the 50 year-old kid who can't wait to get back." Congratulations Elbert, and Cheers to a very bright future!