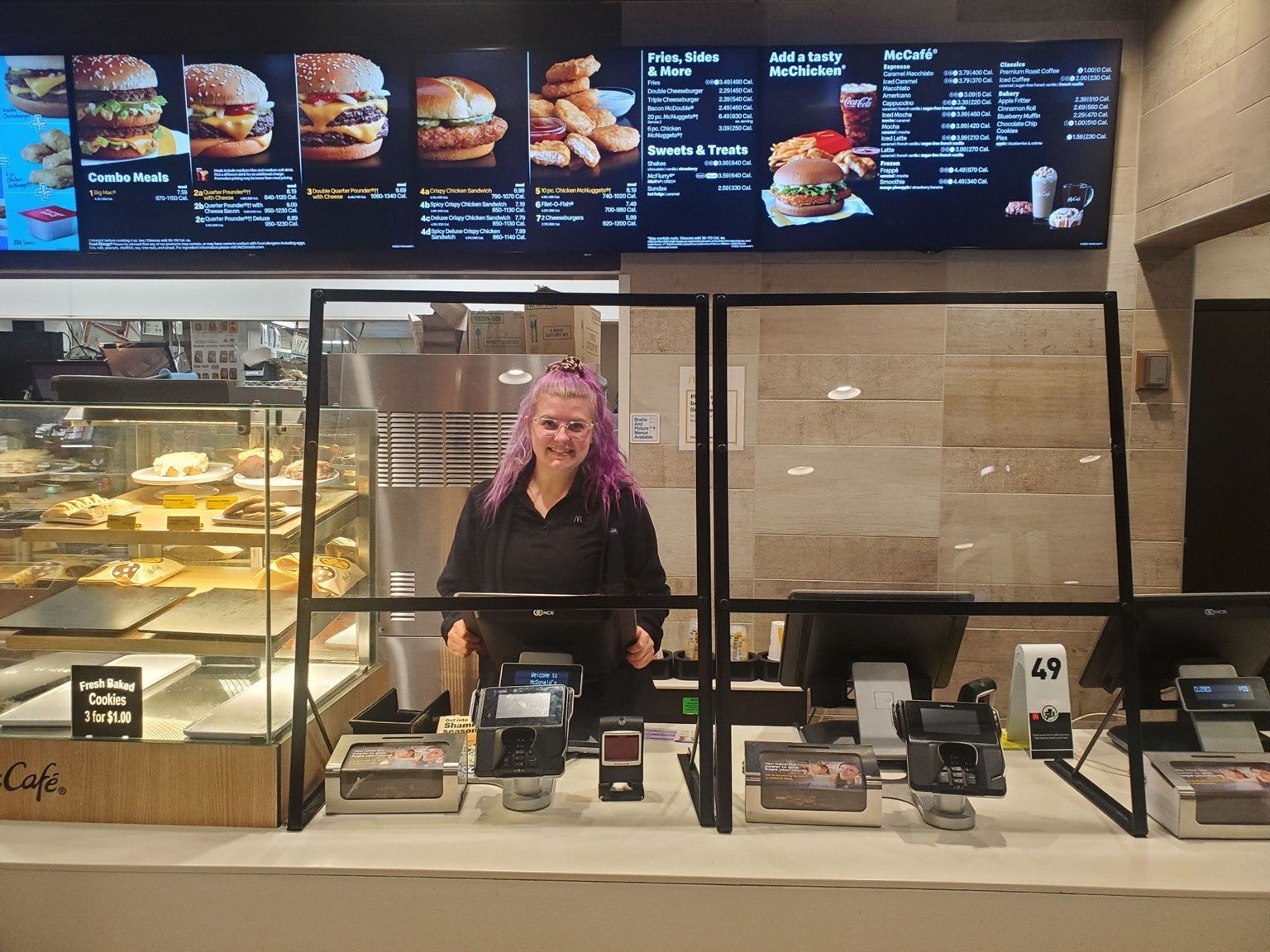 Kassie Johner stands behind the counter of McDonald's in Festus, Mo. where she works as a department manager while earning a bachelor's degree from Western Governors University.
Editor's Note: McDonald's and Western Governors University (WGU) have launched a partnership to help employees at company-owned and participating franchisee-owned restaurants nationwide to pursue their education by making college more affordable and attainable. This is the story of one WGU student's experience in the Archways to Opportunity program.
For Kassie Johner, McDonald's and education have always gone hand-in-hand. She was 17 and attending high school when she got her first job as a crew member at the Twin City McDonald's in Festus, Mo., owned and operated by Jessica Lucas and her father, Steve Short. She's worked her way through the ranks and today, at 25, she's a department manager who is about to receive her bachelor's degree in business administration from Western Governors University. "Working at McDonald's and going to school has helped shape who I am, and how I help others," says Johner.
She shares that message when she interviews prospective restaurant employees and hires new team members. Many of them are surprised to learn that they can receive tuition assistance while working at McDonald's through the Archways to Opportunity education program. When she first tells people about Archways, she loves the look that comes across their faces. It's as though they see McDonald's in a whole new light. "I feel like they know that someone's on their side, trying to help them out," she says. "It's not just about working. It's about helping develop them and their future."
Working at McDonald's while going to school has changed her life. Thinking back to her teenage years, Johner remembers how bashful she was. "When I first started at McDonald's I was a shy person," she says. "I was like, 'Don't talk to me because I'll freak out!'" But with the support of her managers and Lucas, she became more confident in her interactions with customers. College, too, has helped her become more outgoing, as she learned communication skills and gained a deeper understanding of how to read people, including the people she manages. "I've learned how to talk to people," she says. "I've learned how to be a leader."  
Johner says she chose to attend Western Governors University because she likes the online approach to school. She works closely with a mentor, who offers one-on-one guidance throughout her studies. She's able to study before and after work, and has found that flexibility to be helpful. Plus, she says, the team at McDonald's has been incredibly supportive and flexible in her scheduling, as well. As a manager, she offers that same kind of encouragement to her team members, too, whether they're 16-year-olds just starting their first job, or adults who have been working in the industry for years and are interested in pursuing their college degree. She wants everyone to know that McDonald's wants to help them grow and learn—and so does she. "I always tell them if you need time off for any reason, like school, I understand because I'm going through the same thing," she says.

When Johner graduates in the fall of 2022, she plans to continue doing exactly what she's doing: working at McDonald's. Her job has helped shape her life, after all, and she's eager to cheer on others who might also find direction and purpose while working. "If people go to school because of what I'm doing, I'm all for it," she says.