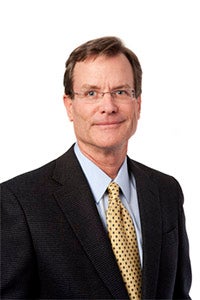 Robert W. Mendenhall served as President of Western Governors University (WGU) beginning in 1999, the same year the university enrolled its first students.
In April 2016, Mendenhall stepped down, moving into his new role of President Emeritus, and Scott Pulsipher became WGU's second president.
Dr. Mendenhall's experience.
Dr. Mendenhall has more than 35 years of experience in the development, marketing, and delivery of technology-based education.
Prior to joining WGU, he was general manager of IBM's K-12 education division, overseeing a $500 million worldwide business. From 1980 to 1992, he was a founder, president, and CEO (from 1987) of Wicat Systems, Inc., a publicly traded company which was a leader in providing computer-based curriculum, instructional management and testing to schools, and technology-based training to government and industry.

Dr. Mendenhall served on the Spellings Commission on the Future of Higher Education. He has also served on the NGA/ASTD Commission on Technology & Adult Learning, on IBM's Education Advisory Council, on the National Forum on 21st Century Skills Education Advisory Board, and on the Technology Working Group for the California Postsecondary Education Commission.
He is also a former member of the Board of the Department of Business and Economic Development for the State of Utah.
In 2010, Mendenhall was honored with the Harold W. McGraw, Jr. Prize in Education for creating educational ideas that work and scaling them up to improve student achievement. Also in 2010, he received the U.S. Distance Learning Association (USDLA) Award for Outstanding Leadership by an Individual in the Field of Distance Learning, and he was named Utah CEO of the Year by Utah Business Magazine.
For his work in leading and developing WGU, Dr. Mendenhall was selected by the Higher Education Policy Institute and Council for Adult and Experiential Learning to receive the 2012 Virginia B. Smith Innovative Leadership Award. And in 2016 he was the recipient of the Champions of E-Learning Award — Heavy Lifter Award from Presidents' Forum.
WGU is a private, nonprofit, online university offering competency-based degrees, meaning that students earn degrees by demonstrating competency — what they know and can do — rather than by accumulating a certain number of credit hours or clock hours.
The only university to receive regional accreditation from four accrediting commissions at the same time, WGU was founded and is supported by 19 governors as well as over 20 leading corporations and foundations.
WGU currently offers bachelor's and master's degrees in business, information technology, K-12 teacher education, and healthcare (including nursing). The university has more than 100,000 students in all 50 states, and continues to grow by more than 20 percent annually.
WGU flourished under Dr. Mendenhall. His work opened partnerships with companies and organizations around the country, helped provide scholarships, and ultimately empowered students to get their degrees.
Because of the great work of university presidents like Dr. Mendenhall, schools like WGU are able to meet their goals and be a resource for students who are looking to further their education.