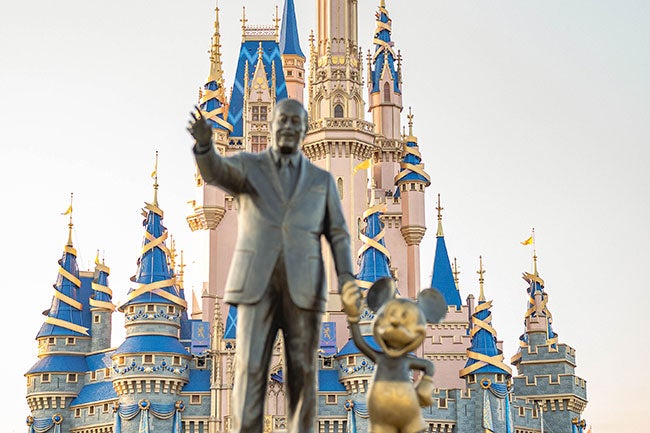 If you go to Disneyland, you'd expect to meet Mickey or Minnie. But perhaps you wouldn't expect to meet a WGU graduate! Meet Chris Castro. He has been serving the guests at Disneyland for over 14 years as a registered nurse. Chris finds plenty of magic and fulfillment working at the happiest place on earth and thrives on overcoming challenges as he helps every guest have a wonderful experience. "You have to be a critical thinker. You have to be able to solve problems on your feet to help a guest get back to their day," he says.
Disneyland Resort has always been part of Chris's life. His Disney journey started when he enrolled in the Disney Academy in high school, where he learned team-building and networking skills. He then continued to work at the park after graduation. While working at Disneyland, Chris also did shifts at a local trauma hospital, coached baseball, and volunteered in his child's classroom, all while he was enrolled at WGU.  
Chris Castro's bachelor's in nursing from WGU set him apart as he pursued an RN job at Disneyland Resort. WGU's unique course format allowed him to earn a nursing degree while working in the park and living his busy life. "WGU had the flexibility for me to access information whenever I needed to," says Chris, adding that he even squeezed in study time on his smartphone from the parking lot of his children's school.  
Like each WGU student, he also received a personal Program Mentor who was there every step of the way, from the first course all the way to graduation. "She kept me on track," he says. 
Nursing is a fulfilling career—one for which Chris prepared his whole life. "Your life experience, including volunteering, work, sports, and education are all components of having a successful nursing career," he says. "WGU course curriculum, the instructors, mentors, and the ease of access to educational materials can help you meet your educational and career goals."  
When it comes to exciting job opportunities, the field of nursing opens many doors. "There are a variety of areas you can work in, be it a hospital, a resort, or a stadium," says Chris. Nurses are also in high demand, particularly considering the ongoing global pandemic. But there's much more to nursing than employability—there's also satisfaction. Nursing is a fulfilling career where you touch countless lives.
In coming years, more nurses will be needed all over the world. "Our role's going to expand as we move forward," Chris says. While Chris works at the happiest place on earth, he's just one of many WGU nursing alumni serving across the nation. At WGU, we're proud of our grads and the impact they're making.
A fulfilling career as a nurse can be your reality too. It all starts with a degree. If you're ready to become a nurse, we're here for every step of your BSN journey.