Sharon has been with Mercy for 17 years working in various positions from being an RN on the cardiovascular floor to her current position as a clinical supervisor at Mercy Hospital in Joplin, Missouri.
Sharon had always dreamed of continuing her education and getting her BSN, but never really found the right time. When she found WGU Missouri's completely online program, she knew it was the right fit.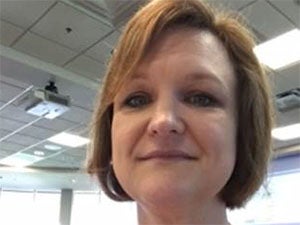 WGU Missouri's program afforded her the benefits of working on the program in the comfort of her own home and on her own schedule. Sharon says that trying to stay motivated and keeping the momentum going was the hardest part of managing her personal and professional life while attending WGU Missouri. "On days I worked I would try to study at least 30 minutes before I would go to sleep at night. On my off days, I would do more. It's all about balance." Sharon says that a huge perk of WGU Missouri is that the faculty genuinely wants you to succeed. "Regularly speaking with your program mentor keeps you on track. There are so many resources. If you need help, all you have to do is ask. Everyone is so friendly and helpful. This has helped make my experience earning a degree easier than I thought it would be!"
Sharon says that after being out of nursing school for 17 years, our competency-based, online format at WGU Missouri worked in favor of her success. She was able to complete classes quickly with information she had obtained through her 17-year nursing career. She also feels that the online format made it so flexible for her schedule. Especially for nurses, who tend to work long shifts and that may include nights and weekends.
When asked what she would tell someone who is considering earning a degree from WGU Missouri, Sharon says, "I am telling all of my coworkers and friends from nursing school to 'just do it'!! It is so easy with WGU Missouri. Several of my classmates have already completed their degree in one term! There is even a discount for Mercy coworkers and multiple scholarships available. With earning my degree I am accomplishing a dream I've had for 17 years, what can you accomplish here at WGU Missouri?"