For WGU Missouri student Dawn Jones, earning a degree in business would fulfill a lifelong dream.
Dawn first went away to college after she graduated high school, but her life drastically changed after the birth of her daughter when she was 19 years old. She was unable to complete her degree and, instead, turned her attention toward a military career. She later joined the U.S. Army and served in Desert Storm.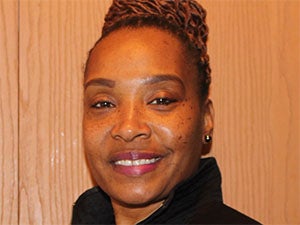 After leaving the military, it seemed that life's priorities would always interrupt the ability for her to complete her degree. "Before I knew it, I was a mother of three children, married and living life; better yet, life was living me," she said. "I began working and would start a semester at school when something would come up with either my children, work or family issues. I would finish the semester but would be unable to continue."
Dawn first heard about WGU Missouri after a colleague was presented with a scholarship while at their workplace, YWCA Metro St. Louis Head Start/Early Head Start Program. The federally funded agency provides early childhood education to children between the ages of six weeks through five years old. She was intrigued at the thought of attending WGU Missouri after speaking to her co-worker and listening to a representative from WGU Missouri speak with her agency about the benefits of attending the university.
"The ability to pay tuition for six months and take as many classes as possible within the term without paying per credit hour really got my attention," Dawn said. "I spoke with my co-worker about WGU, the coursework and ability to successfully complete the program. Within a very short amount of time, I completed my application online, spoke with someone at WGU and was on my way to earning a Bachelor of Science in Business Management."
WGU Missouri's online format was originally intimidating for Dawn, but her mentor consistently provided the encouragement she needed to stay focused throughout her journey. "Mentorship at WGU is priceless," she said. "It's like having a personal coach and cheerleading squad following you throughout your academic journey."
Dawn has also found success with WGU Missouri's competency-based model.
"I believe the competency-based format allows an individual to become knowledgeable in the course material instead of solely focusing on grades," she said. "I've also been able to comprehend practical ways to implement the subject matter rather than simply memorizing material that may have never been used in an actual work setting."
As a busy adult, Dawn loves the fact that WGU Missouri has allowed her to pursue a college degree at her own pace.
"I love the ability to learn on the run, and I can take school with me wherever I go," she said. "The mentors, instructors, student success center and various social connections assist me on my academic journey by allowing me to communicate my questions and even read questions others may have. I've never experienced so many resourceful tools to make sure I complete my degree."
Dawn is on track to graduate soon and will set her sights on earning her master's degree next.
"Completing my bachelor's and master's degrees in business administration would truly fulfill a lifelong dream," she said. "Doing so will not only open additional opportunities in the business sector and help me grow financially, it will also help my children realize that they can always achieve their dreams. I can also be an example for parents I interact with at work. They need a role model, and I want to be that person."