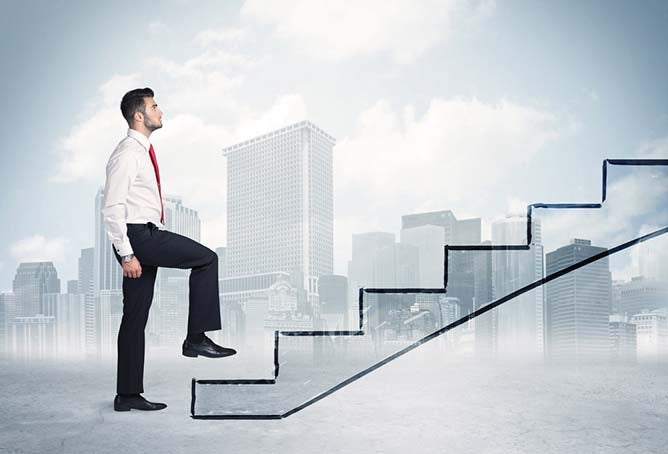 Getting a foot in the door should be just the first step in your IT career path. Nearly every IT professional wants to move up the ladder into positions where they have more responsibility—and higher pay. Whether you're hoping to land a high-level position in management, engineering, or systems administration, knowing the pathways to success is useful. According to Monster, knowing your career path, earning the right certifications and degrees, and advocating for yourself are essential elements to climbing the IT ladder.
Here are four high-level IT roles you can find in nearly every industry, along with strategies and requirements for getting promoted into these positions.
Project manager.
IT project managers are in charge of supervising and coordinating projects. They manage teams, monitor budgets and spending, and ensure that projects are completed on time, and they bring in about around $88,000 a year, according to Glassdoor. The Balance Careers notes that project managers must have strong leadership, management, writing, and organizational skills, which can all be developed through a bachelor's program in computer science or information technology. Pursuing a master's degree in information technology management can make your pathway to project manager even smoother.
But it's not all about the credentials. Landing an IT project manager job requires having some supervisory or leadership experience under your belt. Volunteering to lead hands-on initiatives can show your leaders that you're ready for a challenge. With a degree in hand and three to five years of experience under your belt, you could be in a prime position for a promotion.
Program manager.
Where project managers are typically responsible for one or two projects at a time, program managers lead multiple teams on multiple projects. According to Job Hero, IT program managers develop new products, track technical issues, and keep programs on schedule, all while supervising hardware and software design teams.
To get promoted to program manager, you'll need at least a bachelor's degree in computer science and between 5 and 10 years of project management experience, Career Trend says, and many employers favor candidates with graduate degrees in a technology-related field. Having a project management certification on your résumé can boost your chances of being hired. Getting promoted into this position can be lucrative, too: Glassdoor reports that IT program managers make close to $78,000 a year, on average.
Network engineer.
Network engineers maintain an organization's computer network and make sure that it runs smoothly. They build and upgrade systems, perform network security audits, and monitor networks for optimal performance.
If you have exceptional technical chops, you might be able to land a network engineering job with an associate's degree. But having a bachelor's degree in computer science or information technology will help you on your journey to this position, and a master's degree is even better. Study.com notes that employers like to see five to 10 years of experience in network administration and strong organizational, problem-solving, and customer service skills from potential candidates. If you have these skills, you could work your way up to network engineer and make about $72,000 a year, according to Glassdoor.
Database engineer.
Database engineers take network engineering to the next level. They design and monitor complex databases and ensure that they operate properly. They write scripts for databases, troubleshoot code, and revise database reports, according to Job Hero, so they must have strong coding, problem-solving, and programming skills.
Job Hero also reports that most database engineers have a bachelor's degree in computer science or software engineering and five or more years of experience in database development. Obtaining a position as a database analyst is a great first step on the pathway to database engineer, a career that pays an average of $142,000 a year, according to Glassdoor.
Don't settle for less.
Climbing the ranks in IT isn't always easy. But when you gain valuable management, leadership, and technical skills, it's only a matter of time before you can work your way up. Monster advises employees to document their achievements and prove their leadership abilities, then ask for that big promotion when they think they're ready to take that next career step.
Once you've boosted your résumé with degrees and achievements, all you have to do is advocate for yourself. So what are you waiting for?