There are nearly 26,000 teachers in Nevada, but even that's not enough.
For years, school districts across the Silver State have been in need of more, and better, educators. Now, you may have asked yourself how you can help and get involved, but should you? Would you be doing it for the right reasons?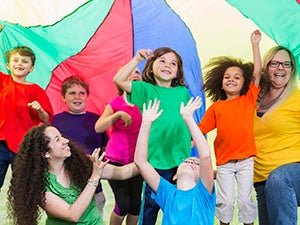 Being the products of various education systems ourselves, we have noticed that some reasons help encourage teachers to be more effective and use more interesting teaching methods than others. Fortunately, the reasons that we hear most often are positive and encouraging, leaving us with hope for the future. Those reasons are that they (teachers) love their students and that they love to teach.
Brittany Pierce, a recent graduate of Western Governors University (WGU), one of the largest producers of STEM teachers in the country, conferring 11% of the nation's bachelor's and master's degrees in STEM teaching, is one such teacher. In fact, she credits her love for teaching and her students with giving her the energy and determination to make learning interesting and memorable.
"As teachers, we should always strive to make learning more engaging, interactive, and fun," said Pierce. "I love teaching and I love my students. I love making science learning fun, and I'm never bored."
As a testament to this, Pierce shared with us a few activities that she uses in her classroom to help facilitate learning. Her students create their own islands, write stories about how they were discovered, and later turn them into topographic maps. They create Rube Goldberg machines to learn about how simple machines interact with each other. In a simulation of RNA and protein synthesis, they make ice cream and brownies.
"I do my best to engage my students," Pierce said. "I use games to review information, stories, projects, and laughter to engage my students in learning so that none of them feel like they have to get their education solely from a textbook."
Pierce continued, "My classroom is a place where there is often noise. I have convinced some of my students to use music to learn. Learning the characteristics of metals, while rapping makes them unforgettable."
More teachers like this are needed in today's classrooms, especially now that educators have to compete with cell phones and social media for attention. Making sure that you are taking up teaching for the right reasons will go a long way in solving the teacher shortage crisis of today and the student competency metrics of tomorrow.