Andrea Petty was told she would never go to college
As a child she was shipped across the country between separated parents for years which left her feeling lonely, unstable, and insecure about herself and her future.
As she entered her teens, Andi began spending every summer with her father working for his newly-established fitness music company. Her love for music and business grew—as did her resume—as she was trusted with different roles and responsibilities within the company.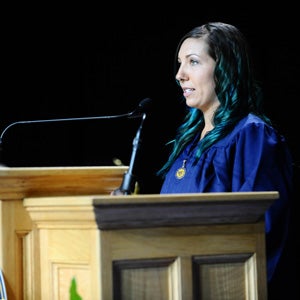 But still plagued with family issues, Andi's life lacked stability. She moved to North Carolina and obtained her cosmetology license before moving to Las Vegas to work for her father full time. She began traveling to trade shows and became very skilled in selling product. Andi was driven by her desire to please her father and help his company succeed, but she also didn't want to see the closest thing she had to home vanish. Finding success and satisfaction with her job came naturally with her passion for music, so she invested all her time and energy into being a stand out employee.
College seemed irrelevant as her goal was now to take over her father's company when he retired, but when family issues returned and her sisters moved out of their mother's home, looking for help, Andi's plans were put on hold. She became "mom" at 22 years old, raising two teenagers while working full-time, and her sisters' well-being became the priority.
Her father's company went through restructuring, and her once-promising dream of leading the family business became impossible. Once again jobless, degreeless, and heartbroken, Andi hit a road block.
"With everything I've experienced, I've learned that life doesn't actually want me to fail," Andi said. Following a DUI charge, a night in jail, and drug and alcohol classes, Andi received the wake-up call she needed to turn her life around. After helping her sisters' complete high school, Andi decided it was time to give college a try.
Andi enrolled in WGU's B.S. Marketing Management program, intrigued by the school's flexibility, its affordability, and how quickly she could complete her degree.
The support and encouragement she received from her WGU mentor Christopher, mixed with a desire to make her family proud was all the motivation Andi needed to complete her bachelor's degree.
"Anyone who attends WGU knows the struggles of an online degree program," Andi explained. "No one is taking attendance, no one is turning Netflix off and telling you to study, and no one is telling you to go to bed early because you have an exam the next morning. All of that comes from within, and I'm so happy I accomplished my goal!"
Now with the knowledge and skills acquired from earning her degree, Andi is enjoying success in a new venture she created during her last year at WGU. Her company, EDMgmt, provides branding, social media, and account management services for local businesses and artists.
To hear more of Andi's journey, view her 2015 Summer Commencement address: