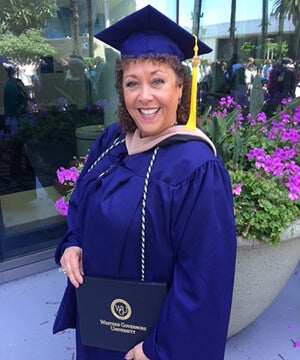 Instead of us boasting about the many positives when choosing WGU Nevada as your education alternative, we want to share stories from students themselves. We are thrilled to showcase in the Who: In Their Own Words blog series Kendall Inskip, Executive Director of Education Alliance of Washoe County.
What career are you in now?
Currently, I am the Executive Director of Education Alliance, a nonprofit dedicated to building community partnerships to help Washoe County School District students succeed, in collaboration with the University of Nevada Reno and Truckee Meadows Community College. 
I had been at the school district as a grant writer for 14 years when I was tasked with heading up Education Alliance. I was so comfortable working independently, but had gaps in my knowledge when it came to managing and leading staff and board members. I had always wanted to get a master's degree sometime in my life, and this was my incentive to do so.
How will your degree help you in your current position or other career goals?
I graduated WGU in January 2019 with a Master of Science in Management and Leadership. Previously, I worked for the University of Nevada, Reno raising money for the Redfield Campus and School of Journalism. The University has an education incentive where they pay for employees to attend so I got started but didn't finish. I was trying to juggle family, education, and a job and it just wasn't feasible to take the time away from my young family. WGU's program allowed me to maintain my family and work life while pursuing my dream!
What made you choose WGU Nevada as your higher education institution?
My sister-in-law was enrolled at WGU and recommended it as an option for me. I did some research and liked the flexibility and self-paced environment. After enrolling and being connected with my mentor, Amy, I was excited about the support available to me from WGU – it had been almost 20 years since I'd been in school! Amy kept me motivated, provided tips, and even helped me get through some stumbling blocks: I struggled with a class and she helped me restructure my thinking to recognize that my struggles revealed gaps in my knowledge – these challenges were providing skills I needed!
Have you attended any WGU Nevada events: graduation, luncheons, baseball games, bowling nights?
I was very excited to attend graduation in Anaheim in June. I did not walk when I received my bachelor's degree 30+ years ago, so I wanted to for this degree. I was so happy to meet my mentor, Amy, and visit with Chancellor Spencer Stewart of WGU Nevada who I had the privilege of meeting when he surprised me with a New Year, New You scholarship! Additionally it was great that family members who were unable to attend could view the live stream WGU provided. I even received a recording of me walking across the stage!
Have you received any funding from WGU Nevada?
I was honored to receive the New Year, New You scholarship toward my tuition in 2018 in the amount of $2,000. I also received assistance through my job at the school district which helped make my tuition more affordable.
What advice do you have for an adult thinking about going back to school?
Do it! It is amazing how much you will discover and you will be so happy and proud you challenged yourself. WGU Nevada is a tremendous resource for our advancement and credibility as professionals and I'm a big fan! My mentor helped me when I was uncertain and made me feel like there was an entire WGU team who wanted me to succeed, just like family!