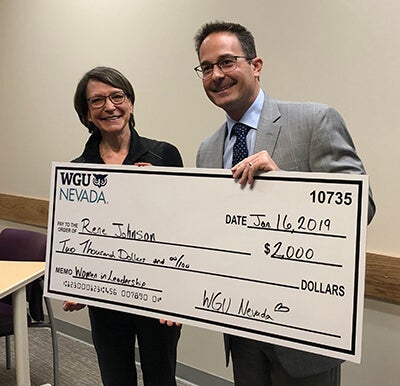 WGU Nevada loves our healthcare professionals! Rene Johnson, a Registered Nurse at Renown Health, is a current student of WGU Nevada. Instead of telling her story, we are going to let her tell it herself. Read our latest blog in the Who: In Their Own Words series featuring Rene!
When did you begin attending WGU Nevada? 
I began the WGU Nevada program in November 2018 and I'm excited to say that I will be graduating April 2020 with a Bachelor of Science degree in Business-Healthcare Management!
What career position are you in now? 
I am currently a staff registered nurse in pain management. With my new degree, I also want to be able to "come to the table" so to speak, with fact-based dialogue when conversations revolve around the topic of healthcare today.
Did you have any other experiences with higher education before WGU Nevada?
It has been over 30 years since I received my associate degree in nursing. I found other ways of continuing education within my field throughout that time, but I always thought it was too late to pursue an advanced degree and that there were too many hoops to jump through. The idea of going back to school after such a long break seemed extremely difficult. Taking the first step was the hardest, but WGU made the application process seem realistic. There was support at every turn.
What made you choose WGU Nevada as your higher education institution? 
The reputation and the quality of the education along with the high standards of the program made WGU Nevada appealing. I also learned the degree in my field was validated and accredited by legitimate institutions. The idea that I could choose the pace of study and incorporate the program without making major changes with my job and other current obligations made higher education a reality. The cost of the program eventually won me over!
Did you receive any other tuition assistance from WGU Nevada? 
I did indeed receive a $2,000 Women in Leadership scholarship from WGU Nevada! I also have the assistance of an annual gift of $1,500 from my employer, Renown Health.
Have you attended any WGU Nevada events: graduation, luncheons, baseball games, bowling nights?
Yes, I attended a dinner for state policymakers with several representatives from WGU in Carson City.
What advice do you have for an adult thinking about going back to school? 
Do it!! Now! When I think of how far I've advanced in my learning from a year ago, I wished I would have started sooner. I will say, one of the tools that WGU made available during the application process was a chart to help you analyze how you currently use your time. I have had to substitute how I choose to spend my time to be successful. You have to be committed and honest with yourself to succeed. Social media and evening television consumed more time than I realized before I started this program. However, once in the groove of setting new goals, it was not difficult to give up those things.