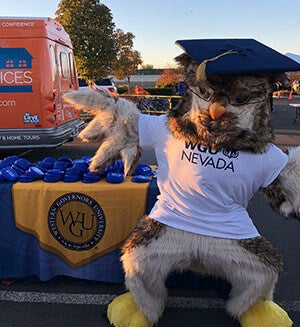 This past weekend, Sunday, October 21, 2018, an owl, a lizard, a fox, a pig, and so many other animals came together in Sparks, Nevada. If this sounds like a story from Old McDonald, think again as this was the annual Run for Education. Local organizations came together with WGU Nevada to support education and physical fitness within Washoe County in northern Nevada.
The Run for Education is hosted by the Education Alliance Board in collaboration with the Washoe County School District and through the support of the community.

This annual event raises funding for the Kids in Motion program with 100% of sponsorship dollars directly impacting students and schools through the Education Alliance and focusing on physical and academic fitness in Washoe County. 
What is Kids in Motion? The Kids in Motion (KIM) program was created by the Education Alliance Board twelve years ago in response to the elimination of funding for physical education, sports, wellness, and nutrition activities within Washoe County School District elementary schools. With many educators focusing on academics only, many students who thrived in physical education, or used it as a necessary outlet in order to focus on their studies, missed out.
So, in response to that lack of funding, Education Alliance created a goal: to provide 62 elementary schools with $2,000 each. Grants combined with donations and sponsor proceeds generated at the annual Run for Education, allowed Education Alliance to fund the Kids in Motion program. However, on top of that, The Run for Education became an annual opportunity for students, educators, parents, businesses, and even community leaders to truly connect and interact in a fun setting. Who knows, you may even see an owl named Sage walking around! 
WGU Nevada is dedicated to supporting the education system, and the educators who go above and beyond for Nevada's children. With the teaching college at WGU Nevada, some of the educators in the state actually came from our university. We are more proud than ever to not only help adults fulfill their career dreams, but also connect those new teachers with students who will also benefit from an education.
WGU Nevada not only provided the antics of Sage, but passed out pens, frisbees, and even slime to youth in the community. In addition to the running events, the Fitness Fair had activity-themed stations, such as bike rodeo, soccer, climbing, golf, archery, gymnastics, and more. More than 8,700 attended the Run in 2017 and we expect that number increased this past Sunday!