WGU Nevada has always strived to be the leading higher education institution for the adult learner, and 2017 was no exception. We graduated 1,867 students from our four colleges (business, teachers, information technology, and health professions, including nursing). Amazingly, 37 percent of those graduates were first generation college students. The average age of our graduating students was 42 years old. Our oldest student to walk across the stage at commencement was 77, and our youngest was 21.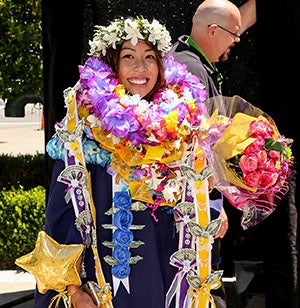 Our scholarship program grew in 2017 to accomplish WGU Nevada's goal of growing the workforce in the Silver State. In January, a partnership was announced with Southern Nevada Cybersecurity Alliance to offer two $10,000 scholarships to students enrolling in programs with the College of Information Technology. The Teach Nevada Scholarship, Women in Technology Scholarship, and 2020 Vision Scholarship were all established to educate the future workforces of industries in need of talent. The Salute to Veterans Scholarship was also offered to 50 new student veterans and their families for a total of $125,000.
Western Governors University (WGU), WGU Nevada's parent organization, received some amazing accolades this past year as well. We were recognized by the world's largest cybersecurity certification body, International Council of E-Commerce Consultants, as "Academia Partner of the Year." We were ranked among the top 1% of teacher prep programs by the National Council on Teacher Quality. We were recognized by the University Research & Review (URR) as a best value school for the fourth consecutive year. Gallup also released the results of a new study that compared the satisfaction and overall well-being of WGU graduates and for the third year, they were more likely to have the jobs they wanted, feel engaged at work, and have an emotional attachment to their university.
Our 2017 commencement was one to remember as we watched 400 students choose to walk across the stage at The Smith Center in Las Vegas.
Chancellor Spencer Stewart also orchestrated some memorable events in 2017. In March, we partnered with Northwest Career and Technical Academy in Las Vegas to build 11 Buddy Benches for local elementary schools as part of a nationwide anti-bullying effort. In May, we partnered with Dunkin' Donuts and Lyft to supply every teacher in the Clark County School District and Washoe County School District with donuts for Teacher Appreciation Week. In Northern Nevada, we took over the Reno Aces stadium in August for a free back-to-school night with students, faculty, alumni, and family members. Additionally, WGU Nevada hosted first-grade students at a reading event at The Animal Foundation. The children brought books, chairs, or mats, and practiced reading to the dogs.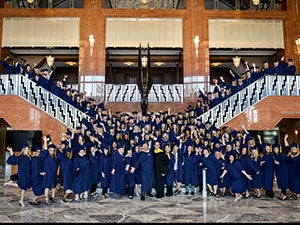 Overall, 2017 was a remarkable year for WGU Nevada, our students, alumni, and mentors. We hope to continue to raise the bar for higher education in Nevada throughout 2018.