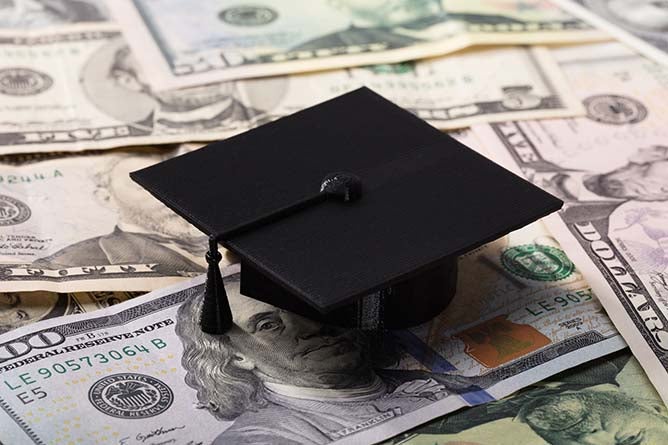 In recognition of Financial Literacy Month, WGU has launched two new resources—Financial Avenue and Scholarship Universe—to help students maximize their personal finance skills and access external scholarship opportunities. 
The resources are available through partnerships with Inceptia and CampusLogic and build on WGU's award-winning Responsible Borrowing Initiative (RBI), which has reduced student loan debt by 40 percent since being implemented in 2013. 
Amanda Savage, Senior Manager of WGU's Scholarships Department, played a significant role in bringing Scholarship Universe to students and recently participated in a Q&A about the launch of the resource. Check out her answers to learn more about the new, free scholarship search tool that will help WGU students easily find and vet gift aid opportunities.  
Q: What is Scholarship Universe and why is WGU excited about its potential?
A: Scholarship Universe is an online platform powered by CampusLogic that matches students to relevant, vetted scholarship opportunities. This tool has the potential to increase the amount of gift aid our students receive, and consequently reduce their reliance on student loans.
Q: What makes Scholarship Universe so convenient for users?
A: There are so many places for students to find scholarships online, with a huge variety in quality, legitimacy, and user-friendliness. Scholarship Universe saves students the time and energy of sifting through hundreds of fraudulent or irrelevant scholarship opportunities and allows them to focus on submitting strong applications for scholarships that they are uniquely qualified for. It also has built-in features, such as thank-you note templates and application deadline trackers, that make it a true one-stop shop for students seeking external scholarships. 
Q: How are scholarships listed on Scholarship University vetted?
A: Each scholarship opportunity that a student sees on Scholarship Universe has gone through an extensive vetting process in order to protect students from scholarship scams. When students are searching for good matches in Scholarship Universe, they can rest assured that the opportunities are legitimate and worth the time and effort it takes to apply. 
Q: How will students be able to access Scholarship Universe?
A: Students can access Scholarship Universe through a link on their student portal (look for "Scholarship Opportunities" in the Financial Toolbox section). Students who apply for WGU scholarships will also be encouraged to utilize Scholarship Universe in order to maximize their chances for gift aid. Eventually, WGU's internal scholarships will be integrated into Scholarship Universe's platform so students can apply for internal and external scholarships from the same platform. 
Q: How would you walk students through the process of navigating to and using the basic functions to search and apply for scholarships?
A: Students will log into Scholarship Universe using their WGU credentials to set up a profile. Scholarship Universe will then present them with scholarship opportunities specifically tailored to their profile. The more information students provide in their profile, the more personalized and relevant the scholarship search results will be. 
Students should keep in mind that the database of scholarships is approximately 10,000 at any given time, so it's very important to be specific when creating a profile to ensure that they are getting the most relevant matches. 
Q: How will Scholarship Universe help WGU in its mission of increasing access to and affordability of higher education?
A: Scholarship Universe makes it easier for students to apply for and receive grants and scholarships. This should ultimately reduce students' out-of-pocket costs and drive down reliance on student loans, making WGU even more accessible and affordable.