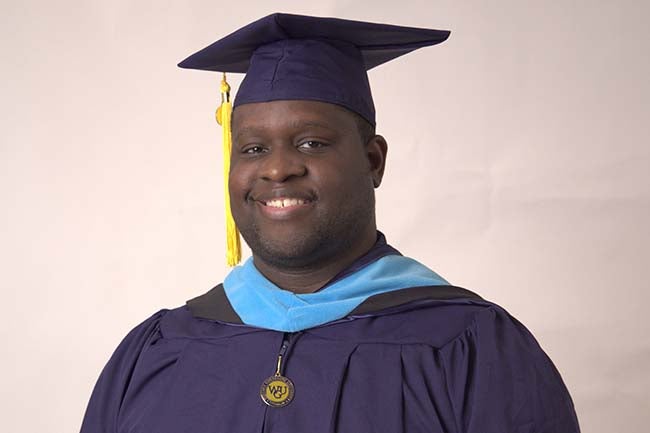 Bency Pierre: Get to Know a WGU Grad Changing Young Lives
"It's worth more than any paycheck, you know. There's just something about it," 
Bency Pierre is a teacher for Plainview-Old Bethpage Central School District in Long Island, New York. Bency, who teaches Spanish at the middle school and French and social studies at the high school, loves teaching because he gets to have fun. "I don't have to grow up," he said jokingly.
Bency Pierre earned his master's in English Language Learning from WGU and uses his education to lift his students and elevate his school. In fact, the high school where he teaches was recently named one of only 19 National Blue Ribbon schools in New York, an honor given by the U.S. Department of Education. Across the nation, only 325 schools received this distinction in 2021.

Making a difference and being an example are the driving forces for Bency. He works hard to not only motivate students but also help them embrace diversity. "Being a minority teacher, there aren't many teachers who look like me, much less students in my classes that look like me. So, for me it's an opportunity to expose children to a different culture because you don't know that it's possible until you see it. I kind of get to plant that seed of empathy and perspective.

Working with other teachers has been a joy for Bency. "It's really a nurturing environment.  They've always helped me grow," he said. The other teachers have helped him learn more about organization, understand new teaching strategies, and more. And Bency is quick to return the favor, using his talents to lift his fellow educators. "My strength is kind of not panicking in the moment," Bency said. When things get hectic at school, Bency is the one to remind everyone that it's going to be ok and that they will find a solution

Bency not only loves his colleagues, but he cares deeply for his students. "One of my biggest challenges was not being too attached," he said. "You see the struggles they're going through, and sometimes you wish you could save the person; you know." 

But Bency has learned about finding the balance between being supportive and helping students and letting them learn on their own. "You can't solve every issue, but I let him know that I cared." The student graduated and is still pursuing his dreams. "Sometimes you want to be the savior, but that's part of growing up," said Bency. "Sometimes you have to let that person grow and solve their own problems," he said.

Bency is honored to be able to be a role model for so many students. "A lot of these students, the situations that they're dealing with, they may not have had figures in their life who believe in them or express that they see potential in them," said Bency. "I show them that [potential] every day."

Bency is inspired by his students and says nothing can compare to the joy he feels when he sees them succeed. "When you see a child who didn't believe in themselves at all at first, and then now they're taking extra steps to put themselves in a better position in life, I mean, there's no better feeling," he said.

Bency's decision to earn a degree at WGU wasn't one he came to lightly. "I had been doing my research for a long time," he said. Because he already had college credits and experience, Bency knew he needed a school where he could put his knowledge to use. Bency found that at WGU. "I've been looking for this my whole life, you know," he said. "Like I think in high school, teachers would laugh at me when I'd say, 'Can I just take my, you know, state final now? I clearly know this stuff,' and they would laugh." At WGU, Bency was able to advance his education and earn his degree quickly.

"I believe that there should be a program where I could just show what I know, and I could get credit for it. WGU has that," said Bency. He believes in the vision of WGU's competency-based education model. "People like WGU understand that the education model does not have to be that traditional brick and mortar. There's more than one way to learn," he said. "It's a beautiful thing to be a part of."  

When asked what advice he would give to students considering a degree from WGU, he said, "Self-accountability. If you have that and can be consistent with the amount of work you put in, you're going to have a great time at WGU."