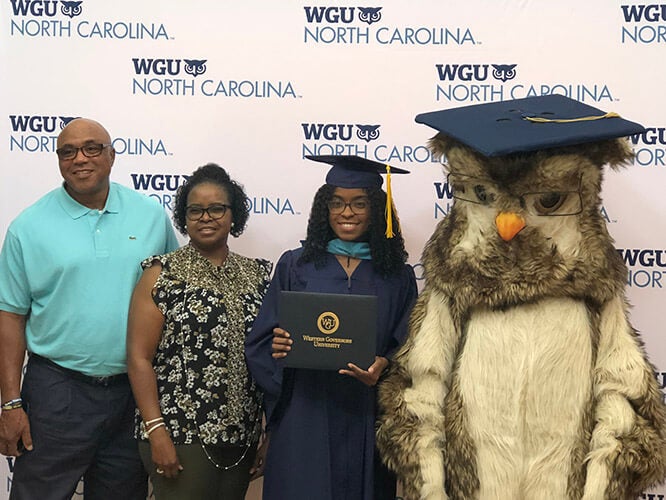 Most historians agree that the caps and gowns associated with graduation ceremonies stem from the garb worn by students and professors in the 1200s when many European universities were founded. Students and teachers wore clerical clothing at the time because many of the instructors were priests, monks or clerics. 
In the 1300s, Oxford and Cambridge Universities in England began to require students to wear the gowns at graduation ceremonies. The mortarboard hat is believed to be modeled after a style of hat known as birettas worn by Catholic priests in this time period.
Caps and gowns still signify attainment of academic degrees today and commencement to the next stage in students' lives.
It's no wonder that the recent graduates who attended WGU North Carolina's first-ever Graduation Celebration Sept. 14 at the Greensboro Science Center felt honored to don borrowed caps and gowns for a photo op by themselves, with their families, or with Sage, WGU's owl mascot. They deserved to celebrate earning their bachelor's or master's degrees, many while working full-time and raising families. 
About 36 graduates and 160 of their guests from throughout the state enjoyed a catered lunch of barbeque, grilled chicken, sides and chocolate cake in the Science Center's Great Hall, while a slideshow of photos from the past year played on a giant screen. Strategic Partnerships Manager Lynne Barbour filled in admirably for WGU Chancellor Catherine Truitt, who was recovering from surgery, as emcee for the festivities. 
"Ever since WGU North Carolina officially launched in October 2017, we've been asked 'When are you going to have a graduation ceremony?'" Barbour told the audience. "We're still crossing our fingers for 2020, but in the meantime, we wanted to have a graduation celebration just for you."
The attendees then saw a brief video greeting from the chancellor, who passed along her congratulations and reminded graduates that they join more than 3,000 WGU alumni statewide and are now "Night Owls for life." The presentation also included brief video testimonials shot earlier this year featuring a double WGU graduate and a current student. 
The grads in attendance stood up as their WGU colleges were called out and announced what degree they earned, often followed by applause and a few hoots. 
Following the celebration, all guests were given the opportunity to enjoy free admission to the Science Center. If they didn't do so beforehand, many took the opportunity to don academic regalia for photos in front of the WGU North Carolina banner. We also provided hoods in colors matching their academic fields, and sample diploma covers that they could hold up for photographs. 
WGU hired a professional photographer to take candid and posed photos, which were subsequently available for free via a link provided to the attendees. 
One graduate remarked, "That 30 seconds [posing for photos] was totally worth it." Another remarked she felt "a real sense of accomplishment" and was glad we could be part of her success. Others took to social media to post comments: 

"Even though I received my diploma for my BSN last month, @wgunorthcarolina was sweet enough to throw a graduation celebration to celebrate with our friends and family! Thankful that mama bear was able to fly up and be here for it too."

"It was a great celebration!"
"It was a great time! Thanks, WGU!"
"I hope y'all do more! I'd love to have this when I graduate with y'all!!"
One graduate shared her comments via an email. "I wanted to take a moment to express my gratitude and appreciation for the Graduation Celebration your office put together for us in North Carolina," she wrote. "The WGU sponsored commencement ceremonies in various parts of the country would have required significant travel expense and taking my family was cost prohibitive. I finished my bachelor's degree on my 52nd birthday and really didn't care about walking across the stage for myself, but I wanted a 'graduation' picture to send to my mother." She concluded by saying she was starting her master's degree with WGU in September and that her daughter is enrolled in WGU's Teachers College.  
Congratulations to all recent WGU graduates! You join a long list of degreed professionals dating back to the 1300s who earned the right to don caps and gowns in recognition of your academic achievements. 
The WGU North Carolina staff would like to thank WGU Tennessee for loaning us their caps and gowns, the staff of Clairemont Communications for helping plan the celebration, and the following WGU faculty who volunteered at the event: Steve Marshall (aka "Sage"), Kelly Webster, Ellie Hunt and Shannon Hawkins.