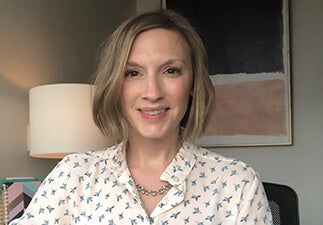 By Lynne Barbour, Strategic Partnerships Manager
When transitioning from the military to the civilian workforce, using LinkedIn to effectively position yourself can make the transition easier and more successful. 
I often meet people who purposely avoid social media or whose previous position prohibited them from posting to social channels. Rather than feeling anxious about exposure in the digital age, now is the time to embrace it and use it to your advantage. 
According to the 2019 LinkedIn Workforce report, "over 155 million workers in the U.S. have LinkedIn profiles; over 20,000 companies in the U.S. use LinkedIn to recruit; and over 3 million jobs are posted on LinkedIn in the U.S. every month."
As you begin your transition out of the military, it's important to embrace LinkedIn as a powerful tool that can be used to establish your online brand and expand your professional network within the civilian workforce. It's your direct line to the 2.8 million recruiters on LinkedIn searching for candidates just like you.
Where do you start? By understanding the purpose of the platform. LinkedIn is a great way to: 
Establish your online brand 
Create your virtual resume
Join professional groups with both civilian and military members
Identify upcoming events where you can connect with new people
How is LinkedIn different from other social media sites?
LinkedIn is for professional use only
Your profile and posts should align with your career trajectory
Avoid pictures or updates from your personal life
Your connections will be different than on other social media platforms. Think of LinkedIn as your virtual rolodex.
Once you're ready to get started, there are a few ways to make your profile stand out. Adding a profile picture makes you 36 times more likely to receive a message on LinkedIn. Additionally, LinkedIn profiles with professional headshots receive 14 times more views than those with less-than-stellar pictures. So, a professional-looking headshot is a must. Below are some tips to consider before posting that picture. 
What image do you want to project to a human resources manager or recruiter? Will you be in military dress or civilian clothing? 
Do you have an idea of where you'd like to work? Find that company's profile on LinkedIn, then browse employee profiles. You will probably see a trend in their photos. Feel free to model your headshot after them. 
No need to hire a professional photographer. There are a lot of military-focused organizations that offer this service for free. You can also grab a friend with a nice camera or smartphone and snap away. 
Make sure the lighting is complimentary to both your skin tone and outfit.
Avoid backgrounds with logos or distracting objects.
Now that you've posted your photo, you need content for your profile. According to the Bureau of Labor Statistics, 77.9% of human resources managers are women, 78.1% of them are Caucasian, and an even higher percentage have no prior military experience. Your LinkedIn profile needs to outline your military and professional experience in a way that speaks to both civilian and military-aligned recruiters and HR managers.
Companies aren't only looking for experience, they're looking for fit. Often that simply begins with a resume they can understand. I recommend working with a military-friendly organization like the USO of North Carolina or Orion Talent to create a civilian-friendly version of your military resume. 
You are officially online. Your resume is revised and virtual, and your headshot is professional. The next step is enhancing your profile using the following tips:
Add skills to your profile. This can include security clearances, certifications, software expertise, or management experience. Listing five or more skills on your LinkedIn profile will get you up to 17 times more profile views.
Tailor your "Headline" section to meet your current need. Don't be afraid to let it be known you are in the job market. This section is visible even if people don't click on your profile. Make it count!
Make your page more visible by using keywords in the "Summary" section. Pro tip: Not sure what keywords to use? Search job posting that interest you and see which skills they require. 
Ask for recommendations from former coworkers and supervisors. It's always a nice gesture to offer a recommendation for their profile in return.
Don't let all that hard work go unnoticed. Your LinkedIn profile is ready to push, so don't forget to:
Customize your LinkedIn URL
Include your LinkedIn profile on your physical resume and email signature
Transitioning from the military into the civilian workforce can feel like learning a new language. The good news is that you don't have to do it alone; there are a lot of organizations ready to help. Feel confident in reaching out to military-focused organizations like the USO of North Carolina, NCServes or Veterans Bridge Home for guidance on your next steps.