North Carolina has the third largest military population in the United States. That's a significant reason why 18 percent of WGU students in our state are affiliated with the military (nationally, that figure is 12 percent). Three percent of North Carolina students self-reported as being on active duty; 5 percent as military spouses or dependents; and 11 percent as veterans.
According to a 2015 report conducted by the N.C. Department of Commerce, the defense industry accounts for 10 percent of the state's economic activity, ranking it as North Carolina's second largest economic sector behind only agriculture. The military supports 540,000 jobs in North Carolina, including 340,000 in the private sector, and contributes over $30 billion in personal income to residents.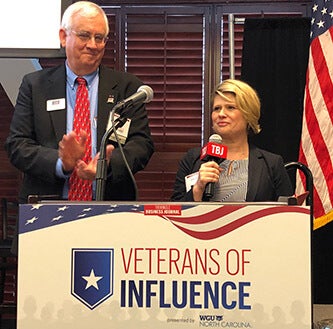 WGU North Carolina Chancellor Catherine Truitt and USO of North Carolina President John Falkenbury announce the new Military Service Scholarships.
Major military installations.
Although the Base Realignment and Closure process impacted many U.S. bases in 2005, North Carolina's military presence remained strong. Following are the major military installations still operating and thriving in our state.
Fort Bragg – By population, Fort Bragg near Fayetteville is the largest military base in the United States. It is home to the 82nd Airborne Division, one of the most famous fighting forces in the world. More than 50,000 active-duty soldiers occupy the base, with additional support from civilian employees, family members and military contractors.
Camp Lejeune – Located near Jacksonville, this installation is home to the largest population of marines and sailors in the world. With a combination of Marine, Navy and Coast Guard commands as well as air stations, the base has a population of more than 135,000 service members, their families and support personnel.
Seymour Johnson Air Force Base – Approximately 12,000 active-duty servicemembers, their family and support personnel live and work on this base near Goldsboro. It is home to the 4th Fighter Wing and trains the airmen and pilots for the largest force of F-15E Strike Eagle jet fighters in the world.
Pope Field – Formerly Pope Air Force Base, this airfield adjacent to Fort Bragg was transferred to the Army in 2011.
Marine Corps Air Station Cherry Point – Located in Havelock, MCAS Cherry Point was commissioned in 1942 and is home to the 2nd Marine Aircraft Wing.
Aviation Logistics Center – This facility in Elizabeth City is the hub of aviation logistics support for the U.S. Coast Guard and provides depot-level maintenance, engineering, supply, procurement and information services.
North Carolina is a popular state for veterans to live. More than 790,000 military veterans reside in the Tar Heel state, ranking us eighth in the nation. More than 225,000 of those veterans are under 50 years old, providing a well-trained and disciplined labor pool for business.
Several organizations and programs provide support to servicemembers transitioning into civilian life. Among them are the following.
North Carolina for Military Employment – NC4ME is a comprehensive public-private partnership designed to make North Carolina the number one state for military employment.
USO of North Carolina – Its various transition programs include the Pathfinder program, transition workshops and hiring events.
Veterans Bridge Home – Based in Charlotte, this organization identifies veterans' education, employment and healthcare needs, and connects them to available community, state and federal resources.
Scholarship opportunities.
WGU has a long history of providing scholarships to members of the military community in all 50 states and even to those deployed overseas. In North Carolina alone, WGU has given out more than $80,000 in military scholarships.
We recently announced a new scholarship program in partnership with the USO of North Carolina. The Military Service Scholarships will provide scholarships valued at $2,500 each to eight deserving members of the military community in our state, including currently serving military members, veterans and their families.
"As a military spouse, I know firsthand the sacrifices that servicemen and women and their families make every day," said WGU Chancellor Catherine Truitt. "It's our hope that the Military Service Scholarships will honor their dedication and provide a means for eight deserving North Carolinians in the military community to advance their education and achieve their professional goals."
The deadline to apply is May 31, 2019, and more information can be found at nc.wgu.edu/militaryservice.