According to the Center for Responsible Lending, 44 million Americans hold more than $1.5 trillion in student loan debt. As students borrow more and take longer to pay off their loans, they are foregoing homeownership, starting a business, getting married, starting a family, and saving for retirement. All of these factors impact the local and national economy.
In North Carolina, the amount of student loan debt statewide tripled between 2008 and 2018. Currently, about one out of every ten residents is paying off a student loan. 

Female students in our state tend to take on more student debt than their male counterparts. They also face a wage gap once they enter the workforce, resulting in a longer time frame to pay off their debt.

CRL's study on North Carolina's Student Debt specifically calls out for-profit colleges for a long history of aggressive and deceptive marketing, often aimed at low-income students, women, people of color, servicemembers, and veterans. When compared to other colleges, for-profit schools tend to have very poor outcomes that contribute to higher debt loads, lower graduation rates, and higher student loan default rates. 

Below is a snapshot of student debt in North Carolina, along with some statistics showing WGU's progress in improving student debt.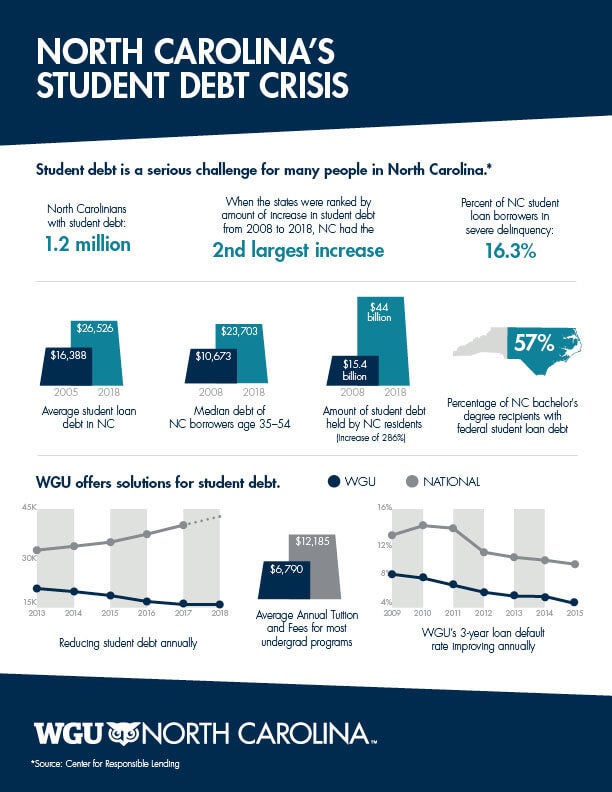 WGU's bachelor's degree recipients graduate with half the debt of their peers across the country. This can be attributed to lower tuition rates, scholarships, and WGU's Responsible Borrowing Initiative, an award-winning program that provides financial aid counseling on borrowing only the amount needed, as well as resources for online financial education, external scholarship searches, and a Financial Toolbox in the WGU Student Portal. 
Since 2013, the Responsible Borrowing Initiative has helped WGU students who borrow money reduce their average borrowing per year by 40%. About 65% of borrowers accept the recommendation to borrow less. 

Nationally, WGU's student loan default rate remained stable at 4.2%, which is less than half the national average of 10.1% and lower than the average of other private four-year institutions nationwide.

WGU is proud to have reduced our students' debt load by $400 million since 2013, and we will continue to explore ways to help them achieve their academic and career goals while incurring the least amount of debt possible.