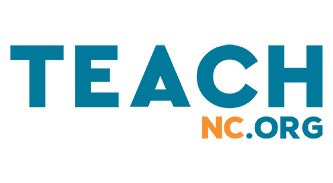 One of the recurring themes on social media during the current COVID-19 pandemic and statewide stay-at-home orders is how hard homeschooling is. For example, TV producer Shonda Rhimes tweeted, "Been homeschooling a 6-year old and 8-year old for one hour and 11 minutes. Teachers deserve to make a billion dollars a year. Or a week."
WGU agrees that teachers deserve to be recognized and celebrated for all they do for schoolchildren across the country. As we celebrate Teacher Appreciation Week (May 4-8, 2020), we want to highlight a resource that actively promotes the teaching profession in North Carolina. 
TeachNC is a centralized platform for anyone interested in becoming a teacher in our state. It was  formed in partnership with the North Carolina Department of Public Instruction,  BEST NC, and TEACH, a nonprofit launched by Microsoft and the U.S. Department of Education. Sponsors include the Belk Foundation, Bill & Melinda Gates Foundation, Coastal Credit Union, IBM, John M. Belk Endowment, James G. Hanes Foundation, and others. 

Like many states, North Carolina has teacher shortages in rural counties as well as in specific licensure areas such as science, math, and special education. 

Launched in May 2019, the comprehensive TeachNC platform helps individuals assess their fit for the teaching profession, learn more about opportunities for educators in North Carolina, and take steps toward earning a teaching license. 

"TeachNC supports you in determining what you need to successfully become a teacher," said Veronica Wilson, TEACH.org's VP of Regions. "We collaborate with a variety of partners to provide critical tools and services—such as application checklists, district profiles and job openings, one-on-one coaching, and financial supports—to make sure the journey to teaching is clearer and more manageable."

The TeachNC platform includes sections on the quality of life in North Carolina, teacher salaries and benefits, district and public charter schools and their communities, frequently asked questions about licensure, and links to colleges and universities that offer bachelor's and master's degrees in education (including WGU North Carolina). 

Earlier this year, WGU North Carolina announced partnerships with the Rowan-Salisbury School System and Lincoln County Schools to support their Teacher Assistants in applying for scholarships worth up to $4,800 (after any Pell Grants have been exhausted) to earn their bachelor's degrees and teacher certifications.

"We want to roll out our TA-to-Teacher scholarship programs across rural counties throughout North Carolina," said WGU North Carolina Chancellor Catherine Truitt. "This grow-your-own initiative taps into the dedication and ambition of TAs who are already working in education but who would like to earn their teaching license and advance their careers. We're happy to meet with any rural school district to discuss potential partnerships."

As of May 1, WGU had 569 students in North Carolina enrolled in the Teachers College: 429 in undergraduate programs and 140 pursuing master's degrees. More than 820 WGU Teachers College graduates live in the state. WGU offers ten bachelor's degrees with licensure, five master's degrees with licensure, and 15 graduate degrees for licensed teachers. 

If you are interested in becoming a teacher in North Carolina, or know someone who might be, check out TeachNC's free Become a Teacher resources. To learn more about WGU's degrees in education, visit www.wgu.edu/online-teaching-degrees.html.