*video credit NBC4 Washington.
Lavon Surratt, an educational aide at Anacostia High School in Washington D.C., was honored at a special in-person commencement ceremony to celebrate earning his Master of Science in Curriculum and Instruction from Western Governors University (WGU) in front of his family, colleagues, and high school students.
"It was a very hard journey," Lavon said. "It was a lot of sacrifice. I just wanted to use this moment to just really inspire students."
When Lavon self-reflected during the pandemic about his future and what he wanted to do next, becoming an educator came to him naturally. His mother is a high school principal in Philadelphia and his sister is a teacher, so it runs in the family.
As a child, things weren't always so clear for Lavon. His mother and father became parents in high school and his mother dropped out to provide for Lavon and his sister. The family was homeless for a spell, but in time his father graduated, becoming a teacher of faith as a minister, and his mother earned her GED and became a teacher. She is the person who inspired him to give back to his community and support students who might be feeling the personal hardships he once experienced.
"My parents didn't grow up with much, and because they had us so young, you know, we didn't grow up with much," he said. "So, education has just always been a big part of my family, and it's always been something we stressed."
Lavon now hopes that sharing his story and celebrating this accomplishment with students will inspire them. Passionate to become an advocate for students, Lavon's capstone project, for which he received a Capstone Excellence award from WGU, focuses on how to address chronic absenteeism through curriculum and other support programs to improve student attendance.
"Just so, you know, students feel that there's an adult in the building that misses them when they're not here," Lavon said.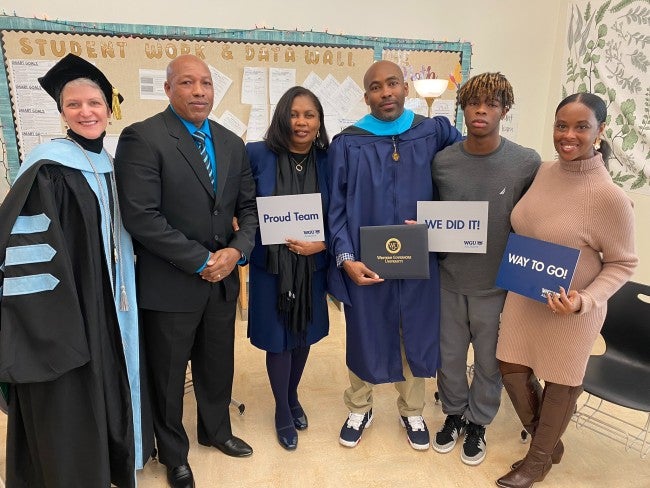 According to the District of Columbia OSSE (2017), more than a quarter of students are chronically absent in the District of Columbia's Public Schools. Anacostia High School is located in ward 8, one of the wards with the highest rates of chronic absenteeism. Lavon's research looks at why students have barriers to attendance, why it is so important to address the problem, and how to improve support services to help them overcome these challenges. Lavon said his goal is to become a Connected Schools manager, which provides resources for the whole family to set kids up for success.
Lavon said, "We have a lot of students who would show up late or a lot of students who wouldn't come," he said. "It made me want to figure out, alright, well what can we do to combat this issue?"
WGU Regional Vice President Rebecca Watts personally delivered Lavon's diploma to him at a special, one-person graduation ceremony at Anacostia High School. Lavon was joined by his wife, Brittany, his son, and his parents, Andrea and Curtis, who drove from New Jersey to attend this special event.
"I'm very proud of you," said his father, Curtis. "I love the way you carry yourself as a young man. I love the way you treat your family."
"It's not very often we honor a WGU graduate with an individual commencement recognition," said Regional Vice President Rebecca Watts. "I'm delighted to celebrate with Lavon, his colleagues, students and family, his academic achievement, professional passion, and personal joy. He deserves it."
Grateful to his family for the struggle and support they have shared together, Lavon said, "This is really to celebrate my parents more than anything."