"A single act of kindness throws out roots in all directions, and the roots spring up and make new trees." -- Amelia Earhart 
James Fowler and Nick Christakis, two of the leading researchers of social networks, found that cooperative behavior can cascade up to three degrees of separation. For each initial act of kindness, two or more people are inspired to act kindly as well.

We know that every hour of every day, WGU students are working hard to achieve their goals and thrive in their lives. We also know that WGU faculty, staff and alumni are positively impacting individual students, one-by-one, with their kind, thoughtful actions.
Over the past year, three compassionate alumni in the northeast have generously funded scholarships. I was able to speak with recipients of two of these scholarships to learn how it has impacted their lives. 
The Rashaan Green Scholarship
La'Kendrick Dennis of Norfolk, Virginia, enrolled in WGU with the intention of achieving a degree in accounting, As time went on, he discovered he really wanted to teach. 
He said, "I come from a long line of educators. My family takes a lot of pride in the important role teachers have in students lives. In my heart, I knew I was meant to teach and help others too."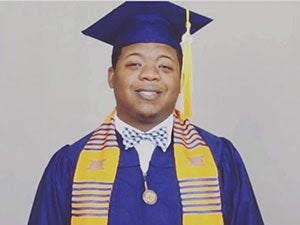 La'Kendrick Dennis
His decision to change degrees meant extending his path to achieve his degree, which meant more classes and more money. He was willing to take on the additional time and debt, but because of WGU College of IT two-time alum. Rashaan Green, he didn't have to. 
La'Kendrick explains, "The Rashaan Green Scholarship was so helpful to me. I didn't have to worry about how I was going to pay a large tuition bill and instead could focus completely on my job and studies."
The Rivera-Luna Business and IT Scholarship
Rose Beeser of Brooklyn, N.Y. feels similar appreciation to WGU College of IT alum, Anthony Rivera, for funding the scholarship she received: the Rivera-Luna Business and IT Scholarship. Rose works at an urgent care facility and lives with her parents in Brooklyn to keep her costs down while she is working toward a business degree in health care.
She said "Price was an important factor in my decision to attend WGU, and I would not have been able to afford a WGU degree and go on for my MBA without the Rivera-Luna Scholarship. I love helping people, and I want to have a job that makes me happy. Having my degree will allow me to have more options to progress in my field."
Anthony's and Rashaan's generosity is helping Rose and La'Kendrick achieve their degrees and reach their goals to help others. In turn, new "trees" of kindness will grow in Norfolk and Brooklyn, from the medical patients and school students that are touched by La'Kendrick's and Rose's giving spirits.
Thank You

Thank you, Northeast alumni, for all you do every day to help WGU students. Your words of support and generous acts of kindness will inspire our students to help others tomorrow. 
To find out more about how you can support WGU students in the northeast, email Jenn or visit the WGU Advancement site. WGU employees can donate via the Intranet.