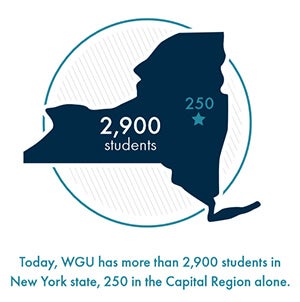 WGU is committed to more deeply and directly engaging with employers, policymakers, students, and alumni in New York to help our students achieve their dreams for a degree and career success by providing a personal, flexible, and affordable education based on current real-world competencies. We've proudly partnered with the region's leading employers in high-growth fields such as nursing and IT to ensure our low-cost, high-quality degree programs are closely aligned to the workforce needs of today's residents. WGU alumni have secured promising careers at top regional companies, including Albany Medical Center, St. Peter's Health Partners, L3Harris Technologies, Rich Products, PepsiCo, JP Morgan Chase, New York Health and Hospitals, JetBlue Airways, Capital District Physicians' Health Plan (CDPHP), and many more. 
Assets available for download.
Skills for the 21st Century: employer needs.
WGU graduates boast degrees that prepare them to succeed in their careers. The data below, from a 2019 survey of 300 employers of WGU graduates by Harris Poll, prove it:
Beyond expectations.
97% of employers said WGU graduates meet or exceed expectations.
Top candidates.
96% said they would hire another WGU graduate.
Prepared for the job.
97% said that their WGU graduates were well-prepared for their jobs.