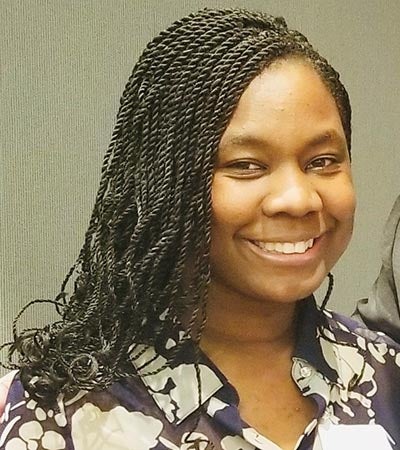 Why did you decide to pursue this degree?
I wanted to pursue a career where I am able to lead, evolve, advocate, and care for others. Healthcare is such a rewarding field to work in, and I hope to become well-rounded by learning and growing in various areas relative to providing patient care. 
What did earning your undergrad from another university mean to you?
I immigrated to the U.S. from Haiti with my family when I was 13.
My parents are non-English speakers and never finished high school. They worked hard and sacrificed a lot to make sure my brothers and I could have better opportunities and a more successful life. Being able to pursue a bachelor's degree [at another university] with a full ride was one of my biggest and proudest accomplishments. And seeing my parents witness it meant the world to me because they saw that their sacrifices were not in vain. 
Explain how you became interested in healthcare as a profession.

In 2010 a massive earthquake struck Haiti, and many lives were lost including some of my loved ones. I joined a small community organization in summer 2010 to support the people of Haiti by sending food, clothes, and anything they would need. It was my first involvement in healthcare, and I realized how small gestures/small acts can be life changing for others.
What interests you about elder care?
My first job in healthcare was at a nursing home, where I worked for six years. During my time there, I had the opportunity to make a significant impact in the residents' lives by providing support and compassionate care. I learned more about elder care and saw opportunities for skilled individuals who are looking for a bright, rewarding career.
How/why has it been difficult for you to get an education because of your immigration status?
As an immigrant (considered DREAMers*) I have no access to Pell Grant, federal education loans or work study. Nevertheless, I persisted because my dreams were important to me. To support my goals to earn my master's, I received a $10,000 Opportunity Grant from WGU.
Why did you choose WGU?
The competency-based learning model is designed to help students obtain a higher education at their own pace. And with the flat-rate tuition I complete as many courses as I can in each 6-month term. As a full-time employee dealing with other elements of life, WGU has helped me maintain a flexible schedule for both school and work to succeed on my terms.
What's the best thing about your WGU experience?

The faculty mentor program provides me with one-on-one guidance and has been a turning point in my education. The support and resources provided are beneficial in navigating the program. 
Do you recommend WGU to others and why?

I sure do. It is a great school, very affordable, the learning style is flexible and accommodating. It's a perfect place to do your master's, especially if you work full-time.
*"DREAMers" are immigrants who came to the U.S. before the age of 15; they are permitted to reside in the U.S. and work but not receive federal financial assistance for higher education.