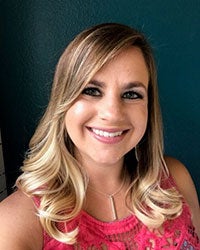 WINCHESTER, VA. — Online, nonprofit, accredited Western Governors University (WGU) has appointed Virginia resident Elizabeth McCarthy as strategic partnerships manager to develop relationships in District of Columbia, Maryland and Northern Virginia. In her new role, McCarthy will work to expand WGU's partnership network and further develop employer relationships, in an effort to increase awareness and student access to higher education, improve affordability and enhance student experience.
McCarthy has dedicated her career to education, with more than a decade of classroom and direct instruction experience as a middle school English teacher prior to joining WGU as a program mentor with the Teachers College in 2017. She brings her drive and passion for education and community outreach to her current role. McCarthy holds a Master of Education from the University of Virginia and a B.A. in secondary education from the University of Great Falls.  
"Elizabeth is passionate about the WGU mission and eager to leverage her institutional knowledge and relationship building skills in the area of partnership development," said Rebecca Watts, Ph.D., WGU regional vice president for the northeast region. "Her previous work with our Teachers College will help us expand our partnerships with area school districts and achieve our mission to provide equitable education access to high-quality, low-cost, competency-based degree programs that lead to in-demand, thriving-wage careers."  

Designed for working adults, WGU provides an asynchronous, competency-based model that allows students to access coursework at a time convenient for them, and to accelerate at their own pace. WGU offers more than 60 undergraduate and graduate degree programs in the in-demand career fields of business, K–12 teacher and leader education, information technology and health professions.